Taking Complexity Out of the Distributed Enterprise—Tech Field Day 15 Recap
Imagine a pendulum swinging between a data center and a branch office. For years, the focus of IT has been on the data center. But as Josh Dobies, VP of Product Marketing at Riverbed, pointed out at the recent Tech Field Day (TFD15), the next wave of complexity that is "wreaking havoc" and challenging IT's ability to keep up with the needs of business is not within data center or even in the cloud, but rather at the business edge—the tens, hundreds, and thousands of remote locations, each of which have become a hub of IT complexity with the influx of the hybrid-WAN, cloud, remote users, IoT, and mobility. He and other experts are now postulating that the pendulum is swinging back to the distributed edge as the focus for the next wave of IT innovation.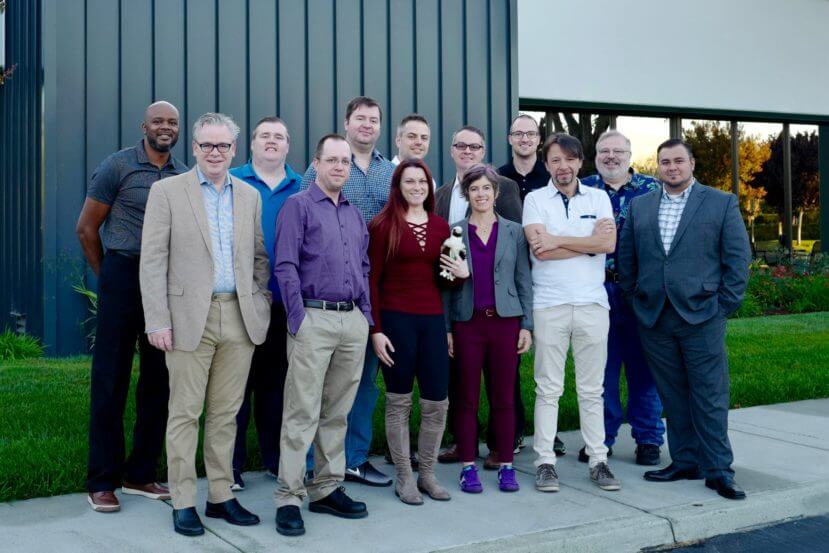 The theme of this recent Tech Field Day, an IT event of IT influencers, thought-leaders, and relevant technology companies, was data center IT. But Riverbed pushed this theme to the edge, literally, by focusing the discussion on understanding and solving the challenges of the distributed enterprise.
On September 28, 2017, Riverbed hosted various IT professionals and subject-matter experts in a lively discussion about the software-defined edge IT, the data center, hybrid environments, cloud connectivity, security, the wireless edge, and how Riverbed drinks its own champagne.
Below is a recap of the event at Riverbed's headquarters as well as some of the session highlights, together with videos from each session.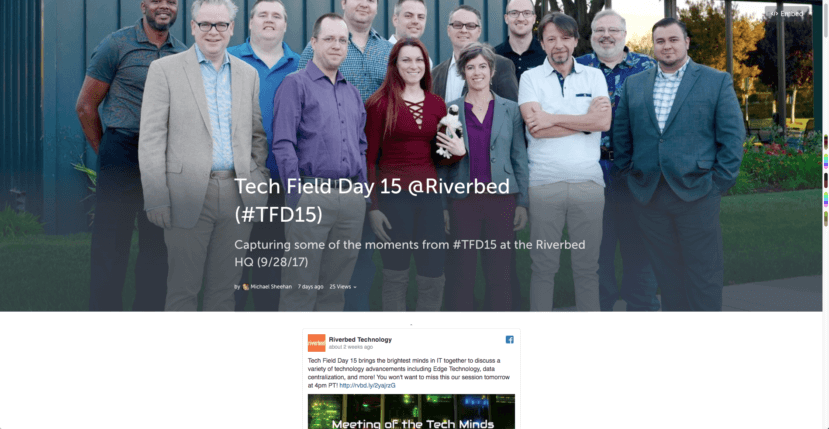 Introducing Riverbed and the "bleeding edge" with Josh Dobies
Josh Dobies kicked off the sessions on data center and edge IT by reiterating the importance of extending the value of the datacenter and hybrid cloud out to the edge. He posited that the remote endpoints of networking, compute, and storage infrastructure must all be managed with a software-defined approach, based on centralized management of business-oriented policies, orchestration, and automation.
According to Dobies, distributed enterprises face numerous challenges from a complex mix of applications, hybrid networks, and insecure remote data. This is nothing new. But what is becoming more evident is how these items are increasingly dispersed and even more difficult to manage with the rise of SaaS, IaaS, mobility, and IoT.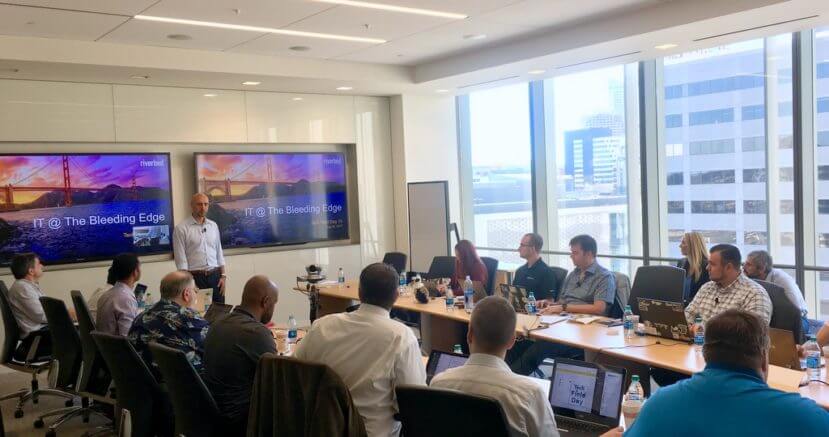 As complexity increases and organizations become more distributed, the enterprise must focus on controlling remote environments from a centralized location, and, the data must be removed from these remote locations and consolidated in the core. IT solutions, says Dobies, must be based on orchestration and not boxes, bringing a convergence of IT to be managed in the same way and by the same policies.
Extending the hybrid cloud to the software-defined edge with Riverbed and Parimal Puranik
The software-defined edge is the place where "business gets done" according to Parimal Puranik, Director of Product Management at Riverbed. Unfortunately, the edge still remains an underserved area of business, despite the fact that a majority of revenue comes from remote locations (e.g., branch offices, the field, retail stores, remote workers).
Puranik outlines several unique challenges facing edge IT including infrastructure, data security and backup, hardware costs, management and operational issues, on-premise IT support, disaster recovery, and how to rapidly deploy applications and services in remote locations (e.g., Windows 10 updates). The tendency is that local offices want to run their own infrastructure. Unfortunately, this methodology simply doesn't scale. Puranik says there is a need to transform the management of infrastructure at these remote locations.
In this session, Puranik presented the power of Riverbed's SteelFusion edge IT solution. The core differentiator of the SteelFusion solution is that SteelFusion is far more than simply "virtualizing everything" and putting that on a server (which is, in fact, part of the solution). Instead, the focus has been in delivering a "cloud-like" experience when deploying and managing IT in order to provide simplicity while reducing the footprint of data in each device, and making it stateless with all data going back to the datacenter or cloud (IaaS) for backup, data protection, and recovery.
Puranik introduces the concept of BlockStream which consists of 3 components:
Smart Cache which caches the data and provides a buffer for read/writes on the edge as well as a storage cache,
Continuous Data Protection which is a synchronous replication of data back to the datacenter, and,
Application-Level Prefetch which understands how applications are running while keeping the cache "warm."
Riverbed: whiteboard of a complete deployment of SteelFusion with Parimal Puranik
A presentation would not be complete without a whiteboard session. Puranik complies with a deep-dive into how SteelFusion works between the edge (on one board) and the datacenter (on another), with the gap between the two being the WAN.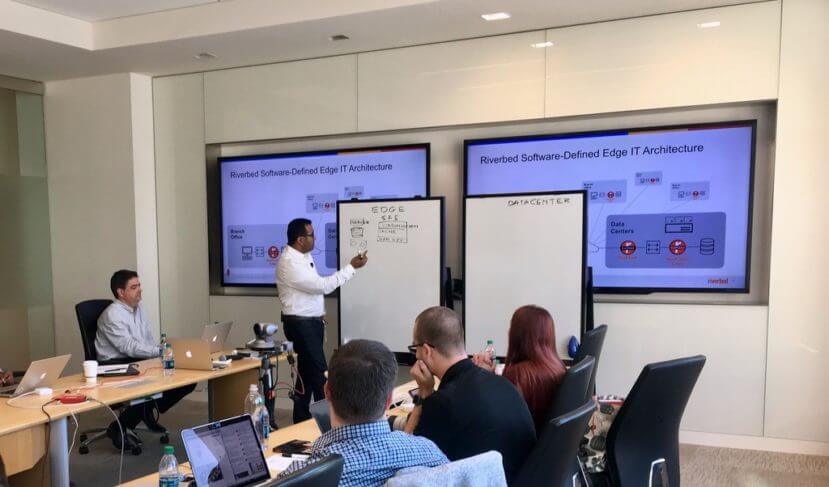 In the illustrated scenario, Puranik shows typical location topologies with the edge containing servers, storage, backups, and a SteelFusion appliance which collapses each of these components while simultaneously optimizing each of them via virtualization, the storage caches, and WAN optimization. The data center houses typical architectures with a SteelFusion head appliance, directly connected to enterprise-grade storage which acts as the final resting place for data.
This session had a lively technical deep dive into how SteelFusion performs and was complete with an extended Q&A session of a variety of use cases.
Riverbed SteelFusion: tech updates and Azure demo with Parimal Puranik
As has frequently been the case, the Tech Field Day delegate received some early product announcements from the Riverbed team. TFD15 was no exception with a preview of an Azure-ready Edge solution.
With the introduction of the Azure-ready edge with SteelFusion, virtualization with Hyper-V is supported, complementing the existing VMware support. Puranik explains how this will dramatically help customers extend the benefits the Microsoft Azure cloud to any and all remote locations that require local compute and data services today.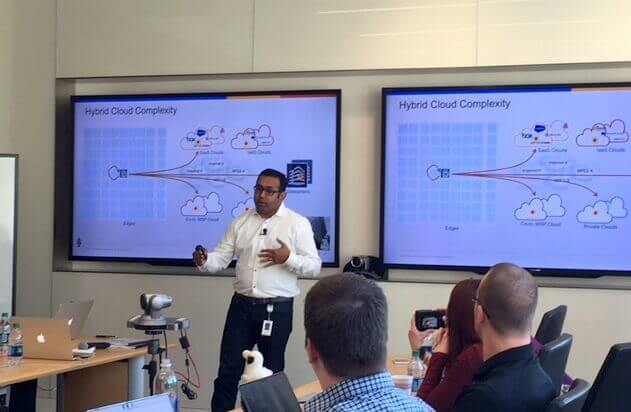 For example, with SteelFusion powering a remote deployment of a Windows 10 VM, a working set of data can be transferred to the edge. Once the required boot services have been transferred (even prior to additional VM data), the VM can begin the bootup process.
Lastly, SteelFusion's new Azure-integration solution offers portal control of volume protection, recovery points, and the restoration of snapshots.
Riverbed SteelConnect SD-WAN demo with Vivek Ganti
Vivek Ganti, Senior Technical Product Marketing Manager at Riverbed, kicked off his SteelConnect SD-WAN demonstration session with the concept behind Riverbed's SD-WAN solution—make the distributed network fabric of the enterprise feel like one piece, focused on policy and orchestration across the widest connectivity as possible, from hybrid WAN to Wi-Fi to mobile—and have it fully integrated across all types of endpoints.
As Ganti demonstrated, integration of physical or virtual or cloud should all be treated the same with the end result being optimized connectivity and integrated orchestration of policies, all within a secure network space.
Ganti used this demo session to introduce a new integration with Zscaler, a market-leader in cloud-based network security. This integration expands SteelConnect's native perimeter firewall services with new options to steer traffic to the Zscaler cloud. Ganti explains that the Riverbed and Zscaler solution goes way beyond supporting basic packet flow between the solutions.
At the core, this represents control-plane to control-plane communication and orchestration that enables SteelConnect to automatically & dynamically know which Zscaler ZEN point-of-presence (POP) is best suited for each remote location. And using the same rich policy engine from SteelConnect, customers can create default routing rules to automatically steer classes of traffic that should or should not be directed to Zscaler nodes, Ganti explained. By not having to directly log into Zscaler to manage traffic flows and instead use SteelConnect directly, customers take advantage of the simplicity of a single-pane of glass to manage the flow of information across SD-WAN and cloud security services.
The Riverbed IT story with Bill Bragg
Rounding out the end of Riverbed's Tech Field Day session was a presentation by Bill Bragg, VP of IT Infrastructure at Riverbed, concentrating specifically on how Riverbed uses its own solutions to optimize the workforce while reducing the IT footprint.
In Bragg's words, Riverbed is living the hybrid dream where performance is king. And Riverbed is a tough use case due to compliance requirements, diverse branch office requirements, a distributed workforce, and a complex mix of traditional and SaaS-based applications.
Bragg and team have, in one instance, compressed the number of racks from 28 to 8 in a remote location used by Riverbed engineers as a result of centralizing remote data management into core data centers, as well as working towards accelerating adoption of an Oracle cloud solution which Bragg believes will be big in the coming years. Riverbed SteelFusion has dramatically streamlined the approach to integrating new company assets as part of recent acquisitions, as well as expansion to new remote offices.
Cheers to the Tech Field Day delegates
Thought-provoking discussions and insightful observations by the invited delegates made this Tech Field Day noteworthy. The topics of data center IT as well as edge IT are critical to companies undergoing digital transformation, who are planning on expansion, who want to simplify and integrate disparate IT topologies, or who are looking to improve the digital experiences of their users, employees, customers, and partners.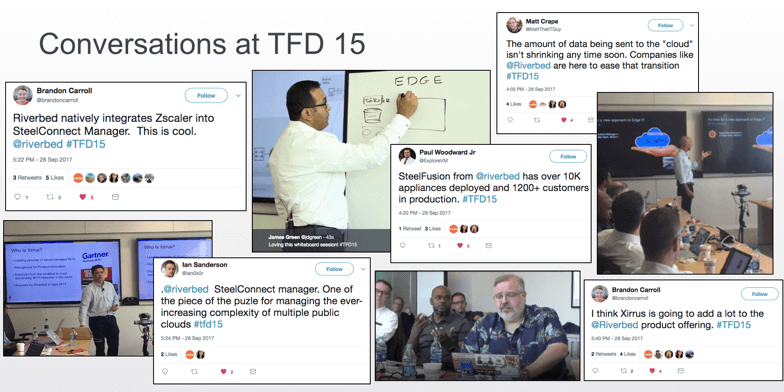 What is core, however, is continued dialogue and innovation within the space, as well as a discussion format to allow for real-world feedback and reality-checks via subject-matter experts. And this is exactly what Tech Field Day is all about.
Here's to the next Tech Field Day!