The Digital Future with Riverbed's Digital Performance Center
Remember toll booths?
A couple decades ago, when you wanted to cross a bridge or go through a tunnel, you found yourself slowing down as you joined a long line of waiting vehicles. Then, as you gradually crawled closer, you had to scramble for cash to hand over to the toll collector. The whole process was tedious and frequently slowed down travel.
Then came E-ZPass and other similar electronic toll collection technologies. As long as you had your electronic E-ZPass pack on your windshield, you could enter a special lane and be waved on through. No cash, no waiting, no fuss.
This added tremendous value for drivers and improved their overall experience. In the case of the Verrazano-Narrows Bridge in New York City, the average wait per driver crossing decreased from 15 minutes to 30 seconds (New York Times, 1997). At the same time, the new toll payment processing systems allowed for more accurate business metrics, and digitization removed the need to physically collect, securely transport and store cash. These changes contributed to the optimization of the business model as well as increased customer satisfaction.
Today, in many countries across the globe, this phenomenon has gone another step further with Automated Number Plate Recognition, or ANPR (Fujitsu, 2016). Through this technology, the car itself is tracked and the license plate number is linked to a credit account. This has created a new revenue stream, with toll companies now having their own treasury departments to maximize their cash balance. The information from ANPR can also be shared to track traffic volumes, car tax, and insurance, unpaid fines—the list goes on. In this way, the combination of big data, the Internet of Things (IoT) and payments are revolutionizing businesses all throughout the transportation industry.
The moral of this story can be summed up in two words: digital transformation. Our world has entered a digital era, and enterprises across all industries are adjusting accordingly—some even becoming unrecognizable in the process, as was the case with E-ZPass. Undergoing digital transformation, or the process of creating value, growth, and competitive advantage through new digital offerings, business models, and business relationships, is essential today. The potential it offers for advancement and expansion can't be ignored, which is why digital transformation has become the number one priority of CIOs (Forbes, 2017).
The harsh truth of the corporate landscape is that if you're not trying to get ahead, you're likely falling behind. These days, the so-called "make or break" element of a company comes down to its digital services offerings. Customers have higher standards today than ever before, so merely meeting these expectations isn't enough to maintain a competitive edge. Exceeding them is the key to distinguishing your enterprise in the current marketplace.
A brave new world
What enables companies to successfully digitally transform is not limited to the implementation of technology. In fact, the insights this provides are far more important. They give key stakeholders the information needed to improve the decision-making process, aided by data and relevance to the business. These two aims are the driving forces behind achieving the desired outcomes from your digital services. This evolution is not a singular focus, but rather involves adapting multiple business aspects to the shifted norms.
New times call for new innovations, and enterprises are building digital performance centers to master their digital transformation journey. These centers unify technology across all IT domains—including end-users, applications, networks, and infrastructure. When coupled with performance management practices, these tools will provide your organization with enhanced capabilities designed to meet your desired outcomes. Ultimately, the organization can better measure important business metrics and predict patterns. This empowers businesses to become more proactive and adaptive to industry trends.
One stop shop
Digital experience technologies have become too complex to manage separately; consolidating all the data and analysis into an integrated platform provides a clearer lens to view your business performance. The insights gained through this method are often invaluable in terms of minimizing risk, increasing revenue and reducing costs.
The retail industry has many examples illustrating the importance of the digital experience, given its extremely competitive nature. Retailers are successful when they deliver a consistently enjoyable and a high-value personalized experience through their digital services offerings.
One instance of this occurred with a major furniture chain's recent experience with an updated app design. For several years now, this retailer has offered an application in stores that allows potential buyers customize the design of their kitchens. Through the increased demands on IT, the application itself became unreasonably slow in the eyes of most users. This lag time negatively impacted their experiences, leading potential customers to often abandon the project. To fix this issue, the retailer streamlined integrated visibility to their business performance and accelerated their application to the user. As a result, this vendor dramatically increased the number of kitchens sold, while also improving consumer satisfaction.
So, now what?
The Riverbed Digital Performance Center (DPC) offering is an integrated digital experience management platform. It incorporates the full range of the digital experience, from the users, next-generation performance technologies to expert-level performance management maturity capabilities. The DPC gives you the breadth and depth to deliver a superior experience from your digital services and critical applications. As outlined in the infographic below, this will help you maximize resources and maintain your competitive advantage in the marketplace.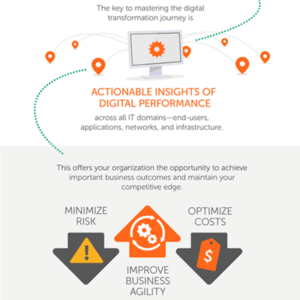 The DPC serves as a framework for your digital transformation strategy and is customizable to achieve your specific business outcomes. While there are multiple starting points, Riverbed recommends beginning by obtaining actionable insights from your user's experience. From there, your organization will be able to further build out the services components and technological capabilities.
Beyond the DPC
Besides generating tangible business results, we have seen digital performance centers implement a change in companies' operating models and workplaces. These centers can create a symbiotic relationship between the people, process, and tools involved by making common business objectives the primary focus. Employees can then end up spending more time prioritizing these goals, rather than concentrating on troubleshooting or other reactive issues.
The era of using cash at toll booths is behind us. The digital age has arrived, and Riverbed's here to help, every step of the way.
To help you get started, consider our Performance Management Maturity Assessment service. The service will increase your awareness of risks associated with digital services and critical applications, and identify strategies for effectively progressing management capabilities and maturity.