If You're Not Monitoring UC, You're Spending Too Much!
The promise of unified communications is that it is supposed to increase efficiencies and make internal operations more seamless. But that only happens when it works properly. And…the only way to tell if it's working correctly is to properly monitor it.
'Companies devote 33% more IT staff to managing IP telephony and 31% more to UC when they don't use monitoring tools. The tools are instrumental to identifying, isolating, and resolving performance issues—and preventing them from happening again,' stated Robin Gareiss, president and founder of Nemertes Research, in the recent Riverbed webinar on Achieving End-to-End UC Visibility. 'When apps run efficiently, employees are more likely to use them. That's one reason 36% more people actually use UC in large companies that use monitoring tools.'
More than 50% of companies use multiple Internet telephony or UC providers. According to Nemertes, those companies that use UC monitoring solutions to manage their environments see significant benefits, including
Operational cost savings
Faster problem resolution
Better security implementation
Validation of technology
Problem prevention
For additional information on the benefits on monitoring your UC environment, view the Slideshare.
Riverbed SteelCentral provides 360 degree visibility into unified communications. Unlike some vendors who take a network—only approach to UC monitoring or others who base theirs only on endpoint telemetry, SteelCentral combines the two approaches to provide end-user quality of experience that directly leads to the ability to rapidly troubleshoot not just UC-based issues, but network and infrastructure-based UC problems. The chart below shows the complete range of SteelCentral UC monitoring capabilities and why you use each.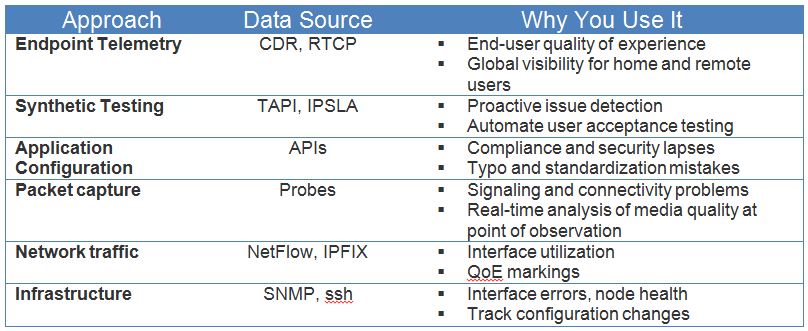 As David Roberts, Riverbed's director of product management for unified communication explains, SteelCentral UCExpert is the center of UC monitoring. UCExpert provides the first three capabilities listed in the chart above. It provides a multi-vendor, multi-tenant user interface that supports Cisco, Microsoft Skype for Business, and Avaya with common dashboards and troubleshooting workflows to enable fast resolution of performance and availability problems.
You can bracket a problem using hop-by-hop path analysis, which shows the exact network path a call took, with the infrastructure it met along the way. This is where the rest of the SteelCentral monitoring solution comes into play: to expedite root cause by isolating problems to the network, device, or user. UCExpert can pull in infrastructure data from SteelCentral NetSensor and network metrics from SteelCentral NetProfiler.

The result is a 360 degree view of your UC environment and a way to achieve all of the benefits Nemertes Reseach espouses of UC monitoring users: happier users, faster more successful deployments, operational savings, problem avoidance and more.
Learn more about UCExpert:
SteelCentral UCExpert Keeps Connections Up, Complaints Down, and Skype for Business Users Happy