Unleash the Full Power of the Cloud with Riverbed at AWS re:Invent 2017
AWS re:Invent is quickly approaching. Building off tremendous growth the past few years, this edition of re:Invent is sure to be the best yet. The event will offer hundreds of breakout sessions, boot camps, and other activities designed to help companies of all shapes and sizes master the cloud.
Riverbed is proud to be a Gold Sponsor this year, showcasing our cutting-edge cloud networking and visibility solutions. So if you're heading to Las Vegas Nov. 28-30, connect with us at booth 2340 to see how we can help transform your business while maximizing your investment in AWS.
AWS: a clear leader in the cloud infrastructure market
As companies continue to ramp up their digital strategies, the cloud will continue to serve as an important catalyst. In fact, 93% of organizations indicate that cloud is critical or important for enabling digital initiatives.
By most accounts, Amazon continues to boost its cloud infrastructure market leadership. Today, 57% of companies are running at least one application in its AWS cloud[1]. And of those who attended last year's event, 46% are already running multiple production workloads on AWS[2].
Navigating the cloud still comes with challenges
Without question, AWS offers powerful benefits for cloud-destined companies. However, many organizations may struggle to harness the full potential of AWS and other cloud services.
Now, these challenges have nothing to do with AWS' offerings directly. But rather, it's because most companies still use complex, legacy networking infrastructure and other management tools that simply weren't designed for a cloud-centric world.

Compounding this complexity is unpredictability: apps, data, and users are everywhere, spread across multiple locations and networks. And, as a result of this complexity and unpredictability, companies often encounter the following issues:
Network complexity hinders scale: Legacy, hardware-based networks are unwieldy and error-prone—often slowing deployments and depleting the agility and efficiency the cloud is supposed to deliver.
Loss of visibility impairs troubleshooting efforts: According to Gartner, 80% of enterprises have cloud blind spots or gaps in their monitoring approaches[3]. 

This is problematic since IT is still on the hook for end-to-end performance.

Application complexity further compromises performance: Today's application topologies are elastic, highly dynamic, and are continuously being updated. As a result, traditional monitoring tools and techniques do not provide sufficient analysis or coverage.
Added latency sometimes degrades the user experience: Oftentimes, when companies migrate apps to AWS, data must travel longer distances to reach users—especially for those located in far-flung, remote sites. These longer network paths can degrade app performance and the user experience.
Limited insights impact development of new cloud apps: Companies are embracing DevOps to innovate even faster. However, they sometimes lack a complete understanding of how new apps are impacting the business, which can interfere with a team's ability to deliver frequent, high-impact releases.
See, connect, and transform with Riverbed at AWS re:Invent
Regardless of whether companies are just getting started, have migrated a few workloads to AWS, or are fully cloud-first and/or cloud-native companies, Riverbed can help them maximize their investments in AWS.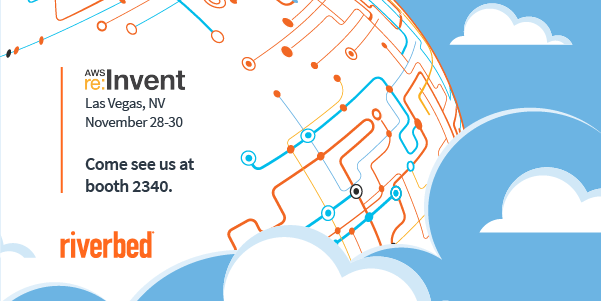 We help customers see, connect, and transform so they can realize the full potential of their AWS cloud investments. We provide a central point of sight and control over networks extending from end-user devices into the AWS cloud—helping deliver the best user experiences that drive optimal business outcomes. Lastly, we enable DevOps-oriented teams with powerful performance diagnostics so they can quickly build, deploy, and continuously improve their AWS-hosted applications.
Read on for some additional details about the solutions we'll be showcasing for AWS customers.
Simplify cloud-to-edge connectivity in AWS with SteelConnect SD-WAN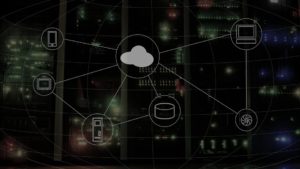 Cloud transformation must extend seamlessly from HQ all the way to the enterprise edge—branch offices and other remote sites that are the growth engines of the business. SteelConnect, Riverbed's SD-WAN and cloud networking solution, simplifies the way teams design, deploy, and manage networks. Leveraging powerful, yet simple workflows helps you move into AWS with greater speed while ensuring consistent security and performance across today's distributed enterprise.
Quickly scale AWS deployments: One-click, secure connectivity into AWS makes it easy to establish connections between all edge locations, AWS VPCs, and other public clouds.
Lower networking costs and optimize AWS performance: Apply policies automatically and uniformly to dynamically steer apps over the optimal network path for better network utilization, higher performance, and lower costs. And extend industry-leading WAN optimization into AWS to accelerate cloud apps and deliver the best user experiences possible.
Use automation to improve business agility: Bring a DevOps mentality to the network to keep up with demands for greater growth and agility. Zero-touch provisioning allows networking teams to set up new sites in minutes. Moreover, centralized policy orchestration and automation reduces errors and time spent on configuration and management, thus making it easier to roll out new apps and services.
Deliver a superior digital experience for apps in AWS with SteelCentral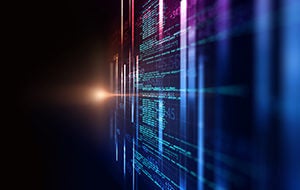 Riverbed can help you take back control of cloud performance. Riverbed SteelCentral provides complete, end-to-end visibility to monitor the digital experience of any mobile device, cloud, or application—including those developed and deployed using AWS.
Develop frequent, high-quality application releases: Develop and deploy apps in AWS faster—without sacrificing quality—by integrating SteelCentral AppInternals into DevOps or build tool chains. Developers can quickly detect, diagnose, and resolve code-level bugs, see the effects of code and system changes, and ensure releases are optimized for production.

Consistently deliver superior digital experiences: Monitor apps from the point of consumption (end-user devices) with SteelCentral Aternity. Proactively resolve issues before they negatively impact user productivity and the business. And gain insights into newly deployed apps that are running in AWS to prioritize areas for improvement based on the use and performance of key features, as well as overall financial impact.
Gain a complete view of performance: Collect detailed performance diagnostics that span all devices, apps, networks, and infrastructure—including containers and microservices. Then, automatically blend this information into role-specific dashboards using SteelCentral Portal so all digital stakeholders have up-to-date insights into impacts on revenue, productivity, and customer satisfaction.
What else will we have on hand?
We know how much conference-goers crave their swag and giveaways. So, we're also offering the following if you stop by for a demo or in-booth conversation:
Snag a free "Game of Thrones" inspired T-shirt, like the one you see here.
Enter for chance to win an Oculus Rift + Touch in our daily drawings.
Lastly, you won't want to miss our featured presentation, "Networking Super Powers for the Cloud Ninja," featuring Angelo Comazzetto, Riverbed's Technical Director for Cloud Services.
In his session, Angelo will provide actionable insights into driving better application visibility and network connectivity on AWS. He'll also conduct a live demo of our cloud networking and visibility solutions that redefine IT for the cloud era.
It's a can't-miss session, and it takes place Wednesday, 11/29, at 5:25 p.m. in the Venetian Sands Expo Hall on level 1, in the Expo Hall Day 1 Theater.
See you at AWS re:Invent 2017!
Demos, swag, and thought-provoking cloud conversations—what else could an event attendee want? I know I'm personally looking forward to the event, and we at Riverbed hope to see you there, too. If you want to set up some dedicated time to connect with us, here's where to do so. Safe travels!
[1] RightScale, 2017 State of Cloud Report
[2] AWS Event Prospectus
[3] Joseph Antelmi, "Assessing Availability Monitoring and Performance Monitoring in Amazon Web Services," Gartner, June 15, 2017