What's in a name? That which we call a rose in "IT," may be a real stinker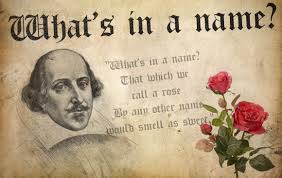 Although Juliet may have been right about roses and Romeo, names do matter. I'll never forget my first visit to Europe as a kid and being frustrated by not knowing how to refer to the restroom. They speak English in England, so why do they call it 'Toilet?' The toilet is the name of the fixture, not the room. Other European countries call the room the 'W.C.' (Water Closet). In Canada it's the 'Washroom.' And I still don't understand how someone can call it the 'loo.'
Terminology is even tougher in IT. There is so much variation in how to refer to an IT team, a person's role or title, the name of an operational process, or a piece of equipment or software. When speaking with customers, I adjust my terms to their nomenclature or risk being misunderstood.
For example, the Technical Support team is a primary user of Aternity, but some companies will call them Client Support or End User Services. And this team is comprised of several groups. Some customers call them Tier 1 (T1), Tier 2 (T2), and Tier 3 (T3). Others refer to them as 1st Level support, 2nd Level support, and 3rd Level support. In some cases, Tier 1 support is called the Service Desk. It seems like any term used in IT has some alternative equivalent being used somewhere else.
Product Management isn't alone in needing to clarify nomenclature. When software sales professionals try to navigate an org chart to get to the VP of Global IT Services (or VP of Service Delivery) they better understand the nomenclature used by that company. When a professional services team works with a customer to operationalize their use of the product, they also must be able to navigate the terminology at that company. The alignment is key for successful communication.
A 7 Step Strategy to Standardizing on Nomenclature within Your Product
As Product Managers, we face the complexity of nomenclature differences every day. At Aternity, we have IT roles defined to make the product easier to use. Should we use Tier 1 or Service Desk? Aternity monitors user experience from the actual user end point – the desktop, laptop, VDI, Citrix session or mobile device. What should we call this 'end point' in our console? COBIT standard does call it a 'device.' ITIL calls it an 'asset.' Microsoft calls it 'System' in SCOM.
Faced with this challenge, here are seven steps that Aternity used to standardize our nomenclature:
We built a tiger team of the various functional groups who are affected by nomenclature differences at our customers: Product Management, Sales, Services, Engineering, and Marketing. It is important to involve the stake holders early on because terminology differences have major impacts across the organization.
Assign people in the team to map the existing terms used by the company and your customers. Separate between (i) names of roles/teams within IT (ii) operational process names (iii) product specific terms, such as device, incident, alert, user, transaction, etc.
Compare your terms to existing standards like ITIL, COBIT and MOF (Microsoft Operations Framework).
Compare your terms to other vendors' products that are part of your customers' IT portfolio, such as ServiceNow, Remedy, and Microsoft System Center Service Manager.
Identify the standards or ecosystem products with which you are closely aligned, since you will likely want to maintain consistency. Mark the terms that you need to change.
Build consensus among all stakeholders in the tiger team, and then plan a transition. The plan needs to include changes to sales presentations, marketing collateral, website, training material, documentation, Statement of Work templates and, of course, the Product UI. It is far from easy, so don't try to boil the ocean. Instead, build a realistic roadmap that might spread to 6 months to a year to align with product releases.
Stick with your decision of standard, and don't let it slip as products and markets change. Each change is hard, so better to use the same standard for any new term that pops up in the future.
Specifically at Aternity, setting the standards is a particularly exciting challenge. Unlike domain-specific management products, Aternity delivers value to a wide range of roles within an organization, across both IT and the business, and helps our customers address a wide range of use cases, from trouble shooting to change management, service level management, and compliance. We decided to use ITIL and ServiceNow for nomenclature standards and built a roadmap that spans to our upcoming Version 9 release slated for January 2016.