You Can't Build 21st Century Services with 20th Century Tools
New connectivity needs for the new era
In the era of cloud, connectivity needs of global enterprises are constantly evolving. In order to keep up with their customers and grow their business, service providers are moving away from slow-growth, low-margin infrastructure-focused services like firewall as a service or DR as a service, to more customer-focused services like secure and optimized cloud connectivity.
Such a shift requires a new way of creating compelling services that deliver attractive business outcomes. This new service creation methodology should allow ample time to research the requirements of the service, yet provide a quick turnaround of the next phases: service publishing, consumption and feedback. That's because customers today will no longer wait weeks or months for a new service to be delivered. They expect their needs to be fulfilled in hours or minutes.


Realization of customer feedback in days and not in months
Re-inventing service lifecycle management
Riverbed Service Delivery Platform re-invents service lifecycle management and offers a new methodology to make service providers more cloud-like. Service providers can take advantage of a catalog of ready-to-go service components to define service blueprints in minutes. Services can then be scaled as needed to meet changing demand on-the-fly and the components of existing services can be re-used to create other services.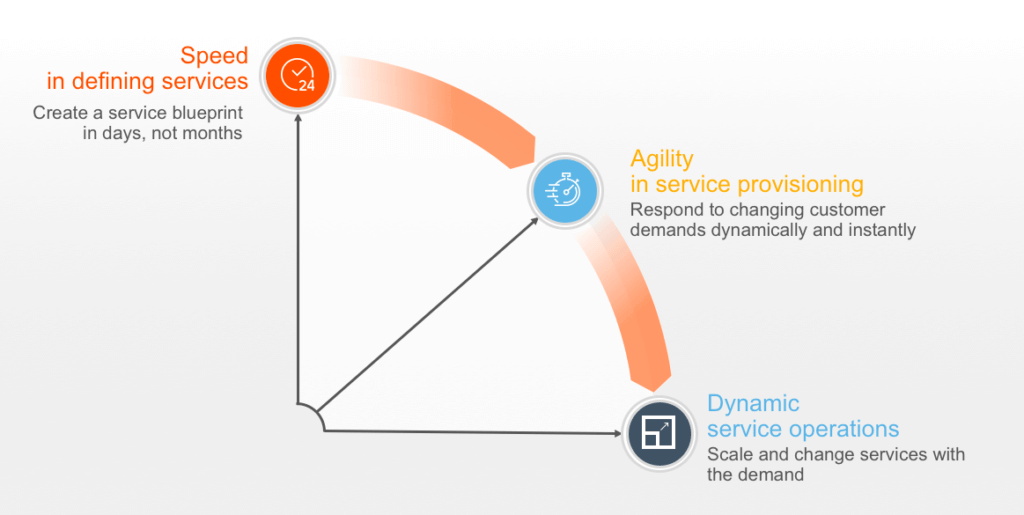 From infrastructure to service-centric focus to make SP business more cloud-like
The platform uses carrier-grade DevOps tools to improve the management of a service. Also, it enables product managers to build services without involving networking experts or making complex infrastructure changes. 
The result is a new level of flexibility for businesses. For example, new subscriptions to services or modifications of existing subscriptions can be made as and when needed. So, an enterprise could add visibility of their SD-WAN service just for the duration of a specific project. They would pay only for the time they need it. When the project finishes, they have the option to stop subscribing and if they decide they like the enhanced service visibility, they can add it back at any time.
Abstracting the infrastructure–enabling service-centricity
Riverbed Service Delivery Platform is API-driven to easily integrate with self-service portals, external marketplaces and the service provider's OSS/BSS infrastructure.
Also, Riverbed Service Delivery Platform is independent of specific appliances or products. It can automate the delivery of managed services around other Riverbed products or run as a standalone service lifecycle management platform for other VNFs. It works equally well in a mixed hardware-virtual environment or in a fully virtualized one. 
The Riverbed philosophy is "battery is included," which means the platform comes with necessary modules such as license management, service visibility and policy management. Yet service providers have the flexibility to swap components out easily and license and integrate them into existing systems.
And that's the new, flexible, 21st century way of doing business.
Interested in learning more? Please contact us at SP_Biz_Dev@riverbed.com