WEEE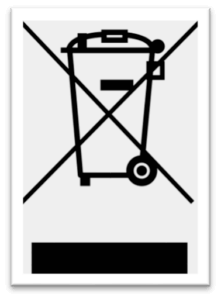 Riverbed hardware products that are marked with a crossed out wheeled bin (as shown in Figure 1) should not be disposed of with general household or business waste.  These products may contain substances that can be harmful to the environment and human health when disposed of improperly.  The proper disposal of Riverbed products will ensure proper treatment and helps conserve valuable natural resources just as well as recycling according to the relevant legislation.
Riverbed engages third party recycling firms to assist with the disposal of WEEE articles.  Please contact us as set forth below for more information on Riverbed's take back and recycling services.
Batteries
Riverbed hardware products may contain batteries that cannot be removed by the user.  Riverbed trained personnel may be required to remove the batteries.  Please contact us as set forth below for questions about removal and disposal of batteries in Riverbed products.
Packaging
If you have questions about the disposal of packaging for Riverbed products, please contact us as set forth below.
Contact Us
If you have Riverbed hardware products and have questions regarding Riverbed's take back and recycling/disposal services for WEEE, batteries, or packaging, please contact Riverbed's Logistics Department via email at WEEE-Take-Back@riverbed.com to discuss your options.  All requests are subject to Riverbed's review and approval.  Riverbed may engage one of its third party service providers (envenance GmbH or M-Cubed Global) to provide such services.
Depending on the product, your location, and the scope of services, the services may be provided to you at no additional charge, although Riverbed reserves the right to pass on additional administrative, logistics, and supplementary charges to the extent permitted under applicable laws.  You may also be required to accept additional terms and conditions prior to Riverbed or its contractors providing any take back services.