Accelerating Enterprise Video Delivery
Content delivery networks, or CDNs, have been used by content providers for years to deliver high-quality video to people's homes over an unpredictable public internet. Video consumes a lot of bandwidth, and high-definition audio requires low latency with minimal jitter. So, to deliver great video and clean audio, CDNs deployed content servers in strategic points of presence. That brought the content closer to the customer and solved the problem of delivering a bandwidth-intensive application over the public internet.
Today's dynamic, hybrid workplace is facing a very similar problem. Enterprise organizations rely on video content — live, recorded, and collaborative — to operate efficiently and effectively. Even the most mission-critical activities now rely on video conferencing and reliable, high-quality video content.
The problem, however, is how much bandwidth video consumes at the local branch office or at someone's home. This is especially in locations where many end-users consume the same content, a network connection can be overwhelmed, and the quality of the video stream will suffer. This is where eCDNs (enterprise content delivery networks) shine.
The Riverbed eCDN Accelerator
Riverbed eCDN Accelerator solution solves this problem by mimicking the distribution of content throughout a local region. Instead of placing a rack of content servers in data centers every 100 square miles, Riverbed eCDN Accelerator makes use of the WebRTC peer-to-peer technology to deliver a single stream to a dedicated computer in one location, which then distributes the content to its local peers.
With this method in place, WAN (wide area network) traffic for video content is dramatically reduced up to 99% while speeding video delivery up to 70%. This means video distribution can scale without needing additional service provider connections or locally installed hardware.
End-users working in the same office will immediately benefit from the eCDN peering relationship, and so will end-users working remotely over a VPN connection or when video traffic is being backhauled. In fact, it doesn't matter where the source of the video content originates. The solution works just as well with video content delivered from the cloud or a SaaS provider.
In the graphic below, notice the difference in the volume of streams between a network using Riverbed's eCDN Accelerator and one that isn't.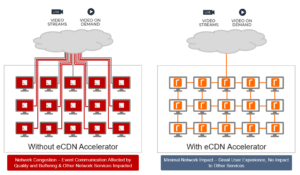 A cloud-based solution
The eCDN solution is cloud-based with computers peering with each other via a browser or a software agent, not a piece of hardware. This provides several benefits to both IT operations and to the end-user.
First, computers peer with each other via a browser for certain applications, making zero-touch deployment quick and easy. Some applications benefit from an agent that can also be deployed via a browser eliminating the need for manual installations or some sort of local hardware.
The policy is pushed from the cloud providing IT centralized control over the environment. From there, IT can manage the ports that are used, manage the cache size on each local computer, filter the bitrate for video streams and configure location-based eCDN parameters to accommodate security requirements.
Second, for the end-user, there's nothing to do but enjoy high-quality video. Deployment and ongoing operation happen behind the scenes, so for an end-user consuming recorded or live video content, it's completely hands-off with instant results.
Video Consumption is on the Rise
Streaming for live video on Microsoft Teams, live virtual events hosted on platforms like ON24, and recorded video-on-demand has ballooned in the last few years. In fact, 82% of all IP traffic is expected to be related to internet-related video by the end of this year.
Without a solid enterprise content delivery solution in place, this increase will overwhelm many internet connections and crush the video quality needed to conduct business in today's world while also impacting other applications running across the same networks.
Riverbed's eCDN Accelerator is a powerful solution that improves the digital experience for end-users and ensures optimal video delivery.
For more information, reach out to your Riverbed representative and visit riverbed.com to learn more.