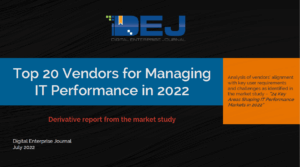 This is part 2 in the series summarizing the key points of the July 2022 Digital Enterprise Journal (DEJ) market study "24 Key Areas Shaping IT Performance Markets in 2022." Read part 1 of this IT performance management series here.
As background, DEJ based their report on survey results from over 3,300 organizations around a variety of IT performance management topics. Register here to receive a complimentary copy of the DEJ Top 20 IT Performance Monitoring Vendors report. Riverbed is prominently featured as one of the top 20 vendors, and as a Leader in eight key areas.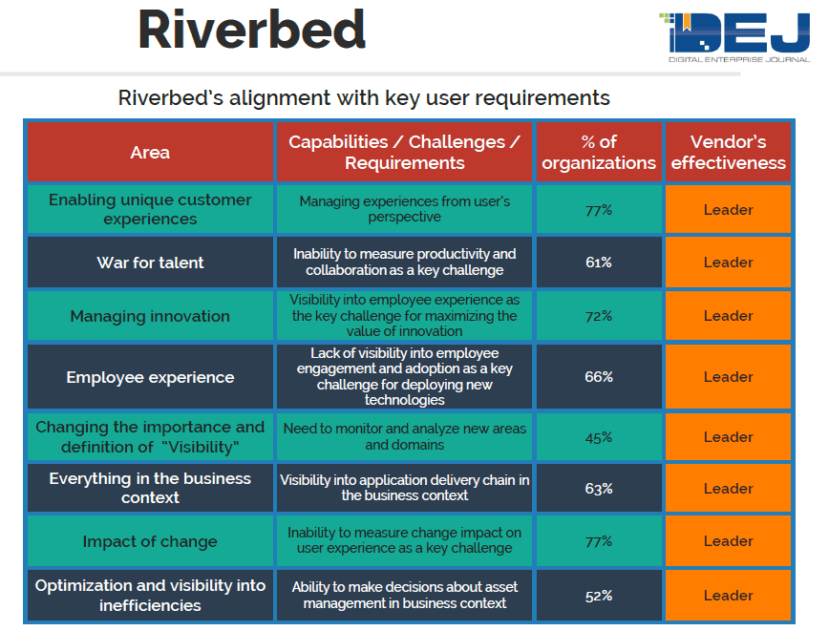 The importance and definition of "visibility" for IT performance management
DEJ's study shows that 64% of organizations have either deployed observability solutions or are considering it. The difference between observability and monitoring is not that clear.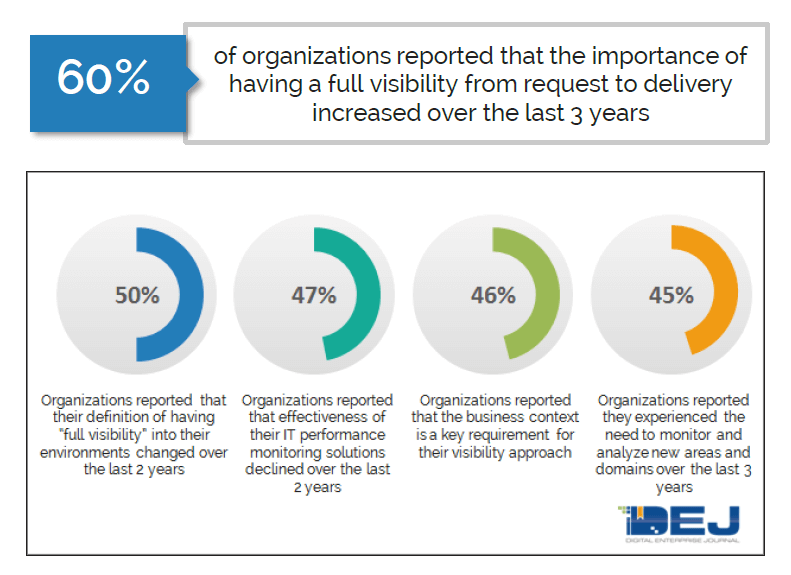 As DEJ says, organizations need to assess their environments, rethink their monitoring approach, and ensure they eliminate "blind spots" that can deteriorate business performance. This is exactly what Riverbed's vision for Unified Observability is all about. Check out this video to learn more.
Observability is more than just APM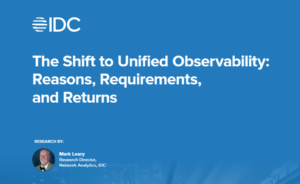 The market tends to use observability as an evolution of Application Performance Monitoring (APM). Used in the context of addressing the challenges of managing cloud-native environments, observability tools can help DevOps and Site Reliability Engineers (SREs) address key use cases.
But cloud-native environments are not the only highly distributed infrastructure for which IT is responsible. And this has an impact on the definition of observability within IT performance management. With tens of thousands of employees working remotely, the digital workplace has become a massive distributed system. With complex hybrid networks, network teams also need observability to address the challenges of managing modern environments.
This broader application of observability has been validated by analyst firm IDC in its recently published survey of 1,400 IT professionals. As covered in a blog summarizing IDC's research, the definitions and use cases of observability extend far beyond just DevOps and cloud-native environments. Register for a complimentary copy of IDC's report, "The Shift to Unified Observability." Note that Riverbed is a sponsor of this research.
Putting everything in the business context with IT performance management
Organizations are deploying new technologies and redefining their approach to IT performance management. DEJ's research shows that 70% of them reported that the tools they are using do not provide business context. The research also shows that organizations are losing millions by not aligning software initiatives to business outcomes. This is a process issue, not an IT performance management technology issue.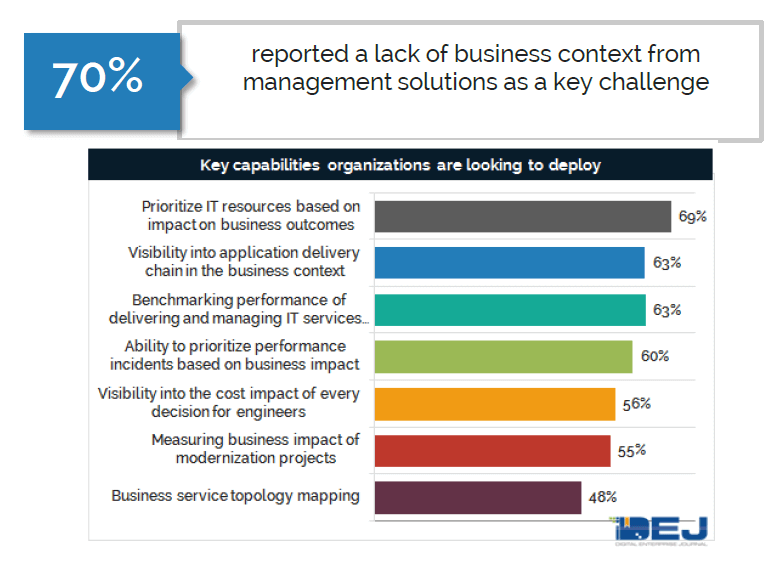 Providing insight into the business impact of IT performance has always been a priority for Riverbed. The Alluvio Aternity Digital Experience Management Platform measures digital experience as employees interact with applications in the context of a business workflow, such as "process a claim" or "look up a patient record." In this way, IT can track the impact of slow performance on employee productivity.
Aternity User Journey Intelligence (UJI) enables application owners to measure the revenue impact of improving page performance on their customer-facing websites. Based on actual transaction data, Aternity UJI enables IT to conduct "what if" analysis to show the potential benefit of improving web page load time.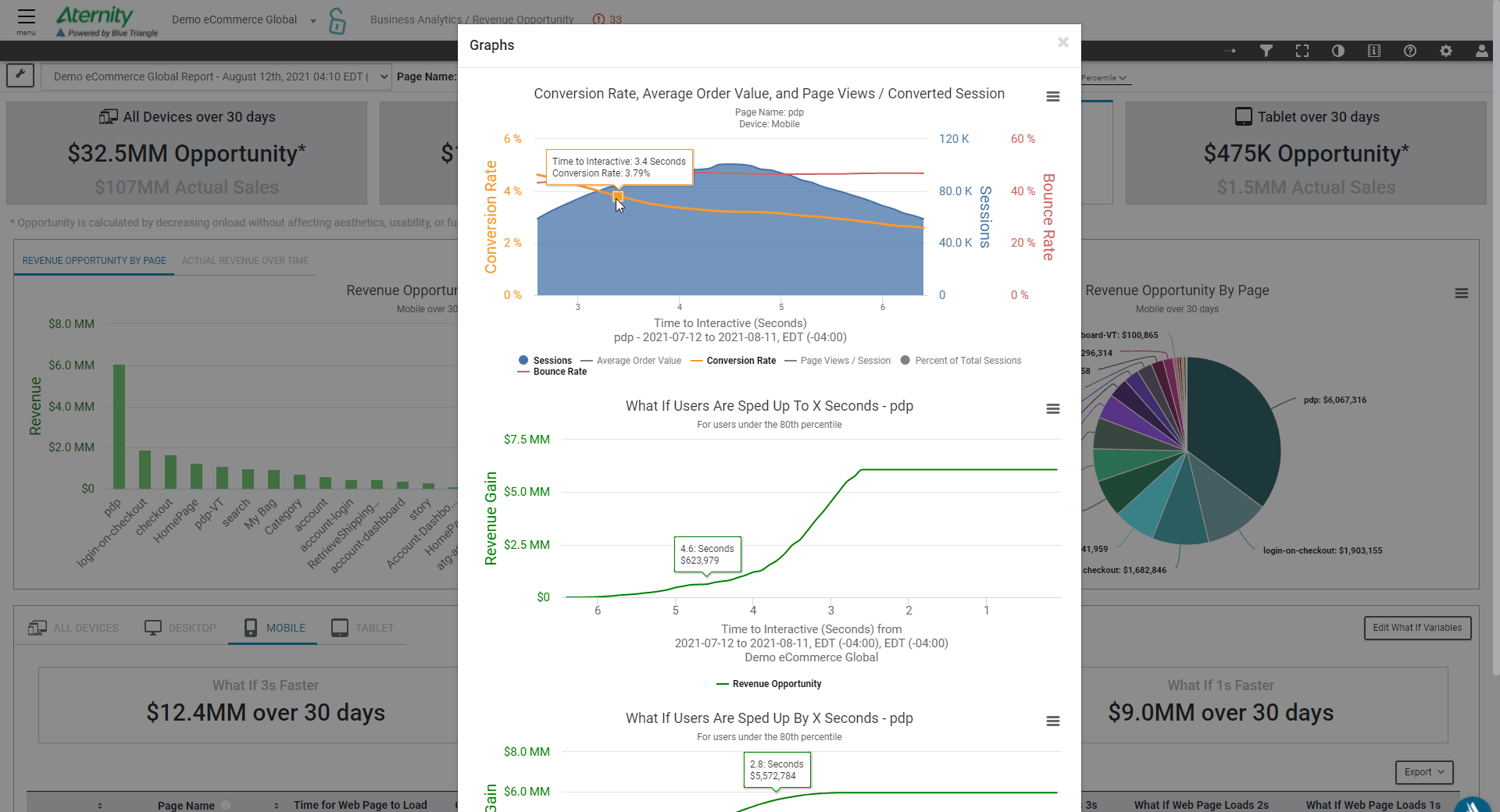 Optimization and visibility into inefficiencies
Business and IT executives surveyed by DEJ reported improving efficiency as the #1 business goal for 2022. In order to achieve this goal, organizations need to gain visibility into the areas where they are experiencing inefficiencies. As shown in the graphic below, lack of visibility causes overspending in a variety of areas, including performance, underutilized assets, engineering staff costs and cloud services, among others.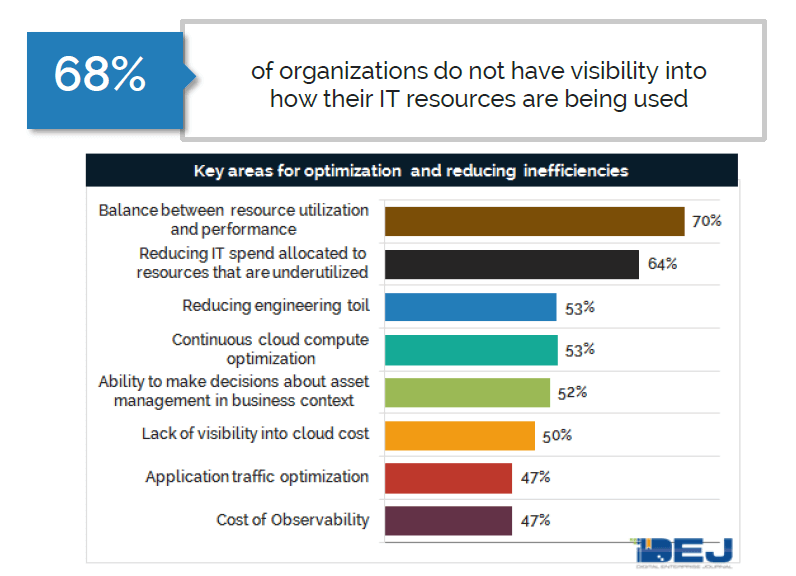 Customers use Aternity for smarter decisions about IT asset cost reduction. Because Aternity measures actual employee experience, it enables digital workplace leaders to employ a "smart device refresh" policy. Rather than replacing employee devices based solely on the age of the device, IT teams can replace only those devices which no longer provide an adequate user experience. For example, for some employees, a five-year old laptop may still provide excellent user experience. There's no need to replace it. This approach is especially useful in an era where IT budgets aren't increasing, and the chip shortage is interfering with supply chains. For example, one global bank used Aternity to reduce the cost of device upgrades by $10M a year through a smart refresh policy.
Get started today

If you're not yet an Aternity customer, you can explore these capabilities by registering for a free trial of Aternity running in your environment. You'll see how your organization compares to the market with the benchmarking insights from millions of end points monitored in via Aternity SaaS. You'll see how your Service Desk can drive down costs and improve service with AI-driven automated remediation. And you'll get a view of employee experience for every app running in your environment – even SaaS and Shadow IT.