FEATURES AND BENEFITS
Riverbed SteelScript Application Framework
Riverbed SteelScript Application Framework is based on Django and builds upon the SteelScript for Python SDK. It provides the foundation for a web application that can query, process, and display customized metrics and analysis using Riverbed's Open APIs and other data sources.
With SteelScript Application Framework, you can build web applications that consume Riverbed's Open APIs faster. It's the express-lane kit for developers that includes:
Virtual machine to quickly install and run the application
Web-based configuration to connect the application to your Riverbed infrastructure
Several pre-built widgets that query data from Alluvio NetProfiler and SteelCentral NetShark
View data from your Riverbed infrastructure alongside data from other sources to get a comprehensive picture.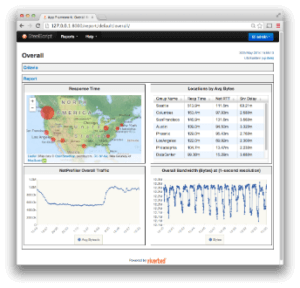 Get More Out of your Investment with SteelScript Application Framework
You want to get the most out of your investment in Riverbed application performance infrastructure. With SteelScript Web Application Framework, you build IT applications that query data from across your infrastructure – including Riverbed – and use that data how it makes sense for your business.
SteelScript Application Framework eliminates unnecessary programming hours and lets developers focus on building the unique, custom code for your company's needs.