Measuring and improving the digital experience of employees and customers has risen in priority over the past couple of years. Several factors explain this trend. Despite efforts to return to the office, hybrid work remains a significant option for organizations around the world. Generation Z, the first "true digital natives," expect digital services at work to be as user-friendly, intuitive, and high-performing as they are outside of the office. Both Human Resources and IT recognize the effect that technology performance has on the employee experience. More and more, company culture and physical office layouts take a back seat to employees' digital experiences. And with record low unemployment rates, organizations are laser-focused on attracting and retaining top talent.
Digital experience market confusion
The primary capabilities of Digital Employee Experience (DEX) tools, according to Gartner's Market Guide for DEX Tools (registration required, G00764030, 31 August 2022), are as follows:
Data Collection and Aggregation: Products should collect quantitative data on device and application inventory, performance and usage. They should also collect qualitative data on employee sentiment. Business context, such as employee location, department, as well as labor cost add value to the data above.
Analysis and Insights: Collecting the data is just the start. Products must provide IT and the business with insights on the impact of the telemetry on digital experience. Trends in usage, performance, sentiment aligned to personas and business context help IT identify and resolve digital experience issues. Benchmarking a company's metrics against others in the industry or geography helps in identifying and prioritizing digital experience improvement initiatives.
Action: Actions enable IT to automate the recovery actions to issues affecting digital experience, while engagement supports interacting with employees to inform them or recommend a next step. Automated remediation is a primary means of building action into digital experience management products to reduce Mean Time to Repair and improve service for commonly expected user experience issues.
The alphabet soup of different digital experience categories
Along with the demand-side factors discussed above, digital experience has become an area of focus for a variety of vendors. As illustrated in the Gartner Market Guide for DEX Tools, several market segments overlap in digital experience management capabilities.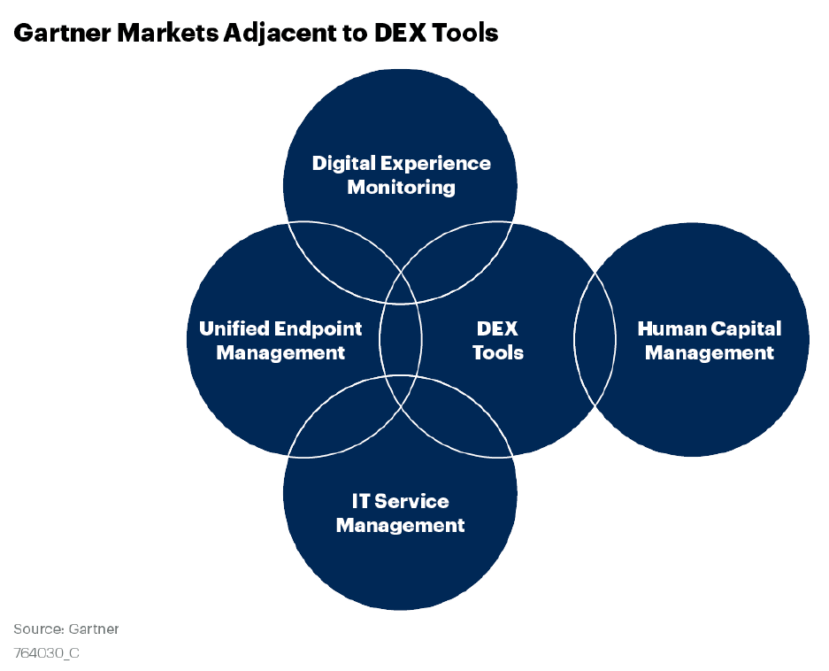 All the acronyms are confusing. And to make matters worse, different analyst firms and vendors define the market segments differently. To make sense of the digital experience alphabet soup, here's an overview of various categories.
DEM: Digital Experience Monitoring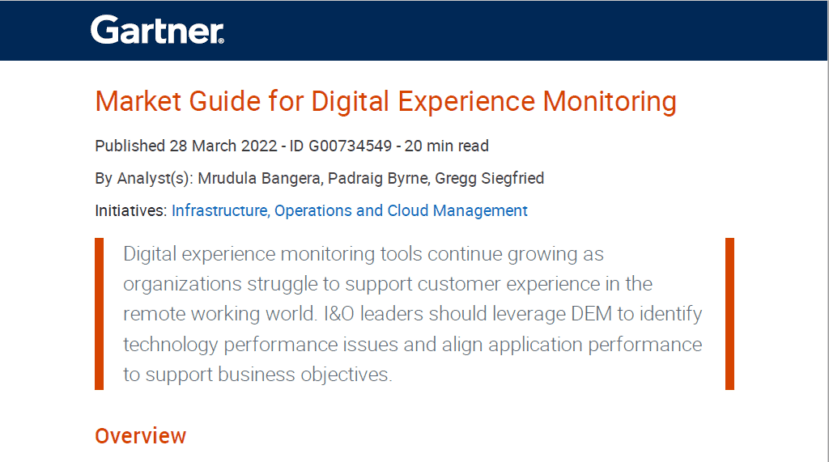 This is one of the more confusing categories. According to the Gartner Market Guide for Digital Experience Monitoring, "digital experience monitoring technologies monitor the availability, performance and quality of an end user or digital agent experiences when using a device or application." So, the Gartner definition includes all types of end users – both employees and customers. It also includes non-human end users, in the context of Internet of Things, such as gas turbines or utility meters which may process digital services. You can obtain a complimentary copy of the Gartner Market Guide for DEM at the link above.
Now analyst firm Forrester defines DEM more narrowly. For Forrester, digital experience monitoring refers to the digital experiences of an organization's customers, not their employees. Forrester uses a different term, End User Experience Monitoring (EUEM) when the end users are employees. See below for more on that term.
CEM: Customer Experience Management
Customer Experience Management (CEM, or sometimes abbreviated as CXM) is a broader term. Gartner defines CXM as "the discipline of understanding customers and deploying strategic plans that enable cross functional efforts and customer-centric culture to improve satisfaction, loyalty and advocacy." So, it's a more strategic practice. CXM extends beyond IT initiatives for measuring and managing the digital experience of customers. For both Gartner and Forrester, DEM is a practice that supports CEM.
DEX: Digital Employee Experience
From the Gartner Market Guide for DEX, "DEX tools help IT leaders measure and continuously improve the technology experience that companies offer to their employees. Near-real-time processing of data aggregated from endpoints, applications, employee sentiment, along with information on organizational context, helps surface actionable insights that drive self-healing automations and engage employees, moving them toward optimal behaviors."
So, what distinguishes DEM from DEX? Good question. I think there are two main distinctions. On the one hand, DEX goes beyond DEM by adding in the actions – the automated remediation or employee engagement – that enable IT and the business to actually improve employee experiences. Rather than simply monitoring it, DEX enables improvement through a cycle of telemetry, insights, and actions. On the other hand, DEM extends beyond DEX because it includes the digital experience of customers and non-human digital agents (think IoT), whereas DEX is solely focused on improving employee experience.
EUEM: End-User Experience Management
The Forrester Wave End-User Experience Management, Q3 2022 profiles several vendors (including Riverbed) whose capabilities enable organizations to deliver a great digital employee experience (DEX). So, for Forrester EUEM capabilities support the goals of DEX. Just like with Gartner. Unlike Gartner's definition of DEM, however, Forrester's definition of EUEM means that "end-user" in this case are just employees. Not customers. That's CEM in Forrester speak. You can obtain a complimentary copy of the Forrester Wave for End-User Experience Management at the link above.
Forrester also includes capabilities like automated remediation in their evaluation criteria for EUEM. As discussed above, Gartner would include this function as part of DEX, not DEM.
UEM: Unified Endpoint Management
Are all these letters swimming around in your soup bowl making you dizzy? Well, what happens when you drop off the first "E" from EUEM to get Unified Endpoint Management? Vendors in this category collect performance telemetry that enables IT to understand the state of an employee device—laptop, PC, virtual desktop, or company-managed tablet. They also include automated remediation scripts that enable IT to speed the recovery from commonly expected performance, security, and configuration issues.
So, products in this category know lots about the devices used by employees. But they generally don't collect metrics on actual user experience—what employees actually see when they use applications in the course of their daily jobs.
HCM: Human Capital Management
This category serves as the counterpoint to UEM. UEM focuses on device performance, but less directly on the experience of the person using the device. Human Capital Management focuses on a broad set of practices related to people resource management such as workforce acquisition, management and optimization. HCM practices encompass all aspects affecting the employee experience and overlaps with the categories above only around how the performance of their technology affects it.
Riverbed's focus: addressing customer challenges
No matter what letters are used to describe the market, at Riverbed, we're focused on the challenges of delivering an excellent experience, for both employees AND customers.

Unlike other vendor's products, Alluvio Aternity delivers full-spectrum digital experience management, by contextualizing data across every enterprise endpoint, app and transaction to inform remediation, drive down costs and improve productivity. To see how Aternity can help you on your journey to improve employee and customer experience, register to begin a free trial today. And let me know how you're managing the alphabet soup of digital experience.