As employees begin returning to the office and enterprises adopt hybrid work policies, enterprise IT teams are being forced to accommodate a more unpredictable workforce. To provide more flexibility and foster collaboration, many enterprises have done away with assigned desks and offices in favor of hoteling and more communal work areas. This has placed an emphasis on the need for strong and reliable Wireless LAN Monitoring to ensure mobile and unpredictable employees maintain constant, uninterrupted wireless connectivity.
Let's start at the beginning. First: what is Wireless LAN? Wireless LAN is a cordless computer network that links multiple devices using wireless communication to form a local area network within a specific space, such as an office. Basically, when you're sitting at your desk and move to a conference room for an important meeting, Wireless LAN is the reason you stay connected to the closest and most effective access point.
To address the need for consistent Wireless LAN health, Riverbed has released NetIM 2.5 to give users predefined support to identify and fix Wi-Fi stability. NetIM 2.5 can achieve this through insights into access point status and quantity by model, OS version, and controller.
In this blog, we explore the importance and benefits of Wireless LAN monitoring and how the availability of Riverbed NetIM 2.5 will improve your Wireless LAN monitoring capabilities.
Why you need Wireless LAN monitoring
Every time a user's connection falters, their productivity takes a hit. Not only does this demand time and attention to diagnose and fix the issue, but it also takes time away from an employee that would have otherwise been spent on important business-related tasks. This can cause significant employee and customer frustration, stalled projects, and loss of revenue. In fact, employees lose an average of 71 productive hours annually because of poor network connectivity. And whether you have two or 20 access points, connection issues can be hard to diagnose, especially since the primary form of connectivity is wireless, not tangible cords and cables.
So, if your network connection falters, do you know how to identify which access point is causing the issue?
Wireless LAN monitoring provides visibility into which controllers are being accessed across your device network, and which users are connected to specific access points. If the quality of your Wi-Fi connection suddenly decreases or is lost altogether, a Wireless LAN monitoring tool can find and mitigate the connectivity issue efficiently and effectively.
The data provided by Wireless LAN monitoring—which includes information on access point status, quantity, etc.—helps IT teams to answer questions like:
Do any access points have stability issues?
Are issues correlated with specific models or OS versions?
Do issues occur at specific times of the day?
Are issues correlated with the number of active clients for the access point?
Do we have too many clients connected to an access point?
Are any access clients down? If so, how many APs were connected before going down?
To fully realize the benefits of Wireless LAN monitoring, you need an easy-to-use platform that continuously identifies access point issues and provides proactive solutions.
Introducing: Riverbed NetIM 2.5
NetIM provides a scalable network and server infrastructure monitoring platform to help customers detect, diagnose, and troubleshoot infrastructure availability, performance, and configuration-related problems and outages. Network traffic data can be displayed within NetIM to help IT understand how device outages/slowdowns are affecting broader network and application performance. It is often combined with NetProfiler and AppResponse as part of Riverbed's unified network performance management suite. NetIM provides visibility into your devices (physical, virtual or cloud) giving insight into the health and status of your network environment, translating to what your user is experiencing.
In the latest update to Riverbed NetIM 2.5, Wireless LAN metrics are available with predefined support for Cisco and HP-Aruba Wireless LAN Controllers, along with Wireless Access Point Views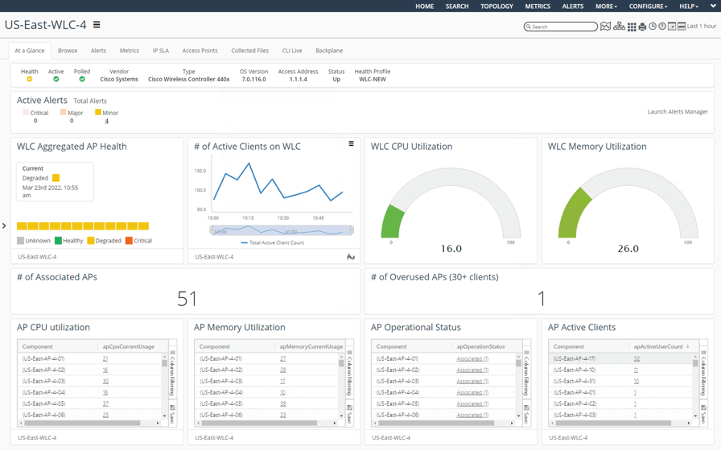 The update also features new security-related capabilities to ensure that NetIM operates within the security parameters of customers' IT environments, including TLS 1.3 support for all communication activities and the ability to add or update SSL certificates via the web UI.
Learn more about the benefits and new security features of Riverbed NetIM 2.5.