When your Riverbed NetProfiler is oversubscribed and out of capacity, it's not providing a complete view of your network performance. The view is not just 'gaps' but potentially overall network blindness. NetProfiler can become oversubscribed because of normal network growth – new users, devices, acquisitions, and so on—that can add new flows to your network.
Incomplete, oversubscribed flow collection can lead to an unreliable and misleading understanding of the following types of problems:
Bandwidth problems
Top Talkers on a specific interface
Unauthorized application usage
WAN utilization issues
Incorrect QoS tagging
Wireless bandwidth usage
Analyzing zero-day threats
Identify a DNS attack
Identify data exfiltration
Computer worm virus
Therefore, it is essential to check on your flow rates on a regular basis to ensure you still have the correct number of flows for your current environment.
How to know if  NetProfiler is oversubscribed
You can determine your flow status by going to the NetProfiler or Flow Gateway ADMINISTRATION link at the top of the screen, and then clicking on SYSTEM. As shown in Figure 1, the Flow Capacity Usage and Raw Flows Processed/Over Limit will show you how many flows you are processing.
These graphs can show up to about 1 million flows over your limit. Under 1 million flows, the graphs will show exactly how much over; after they can't calculate how much over and just drop the flows.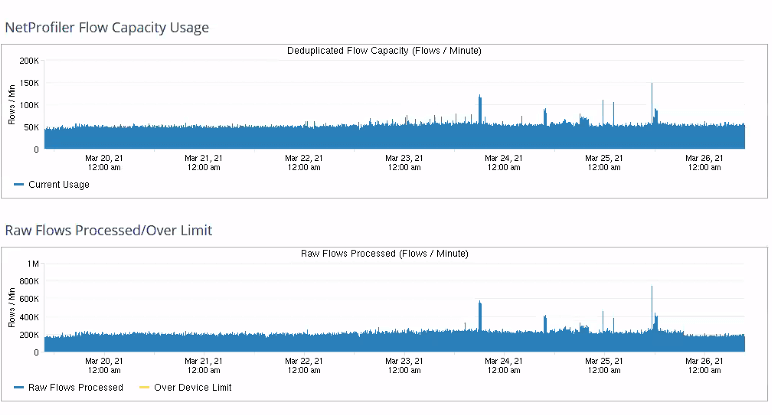 NetProfiler requires all flows in order to provide complete, comprehensive, and accurate monitoring and reporting. Once you exceed your flow limit, NetProfiler will not be able to capture all of the relevant data. This will result in incomplete monitoring, and likely inaccurate insights and false results. Without this full-flow data, the risks and impacts are consistent with the risks associated with not having NetProfiler capabilities at all. For these reasons, it's important to maintain appropriate flow licenses.
I've reached the max 20M Flows of my legacy NetProfiler,  now what?
Riverbed offers a trade-up program to assist you in moving from legacy and xx70 versions of NetProfiler to the latest xx80 versions. Both the virtual and appliance versions of NetProfiler xx80 currently max out at 30 million flows per minute, a 33% increase over legacy solutions. Plus, the xx80 Riverbed Flow Gateway is also increased in performance and scale, with up to 6 million FPM.
What are the compelling reasons to renew?
If you are on a NetProfiler that is EOS, you've missed out on a lot of performance and scale updates including:
An upper limit of 30M FPM for NetProfiler
6M FPM limit for Flow Gateway and a high availability configuration
2000 preferred interfaces
Seamless grow path from 10K to 30M FPM by simply adding licenses and Expansion modules
10GB NIC for Flow Gateway and Dispatcher
Some of the features you may have missed: AWS and Azure deployment, AD Connector 3.0, IPv6 support, restricted reporting, integrations with NetIM and Aternity, SAML, Flow Gateway buffering.
Other great features include enhanced cloud flow support, a really cool modern home screen, and new Google-like search.
Benefits of a properly working NetProfiler
Network Performance Management (NPM) can help you keep your network and applications running at peak performance. Here are a few ways Riverbed NetProfiler, as part of the Riverbed Unified Network Performance Management platform, can help:
Proactively prevent slowdowns and outages to minimize downtime and the effect it can have on your users and your business outcomes.
Resolve performance issues faster because you have all the insights you need at your fingertips.
Eliminate network blind spots by providing visibility into on-premises, virtual, and cloud environment in the same unified dashboards.
Improve user experience. Networks are designed to deliver applications to users. User experience should always be measure and monitored to ensure ample performance.
Enhance network security. Network visibility delivers the crucial insights to detect, investigate and mitigate advanced threats that bypass typical preventative measures.
Increase IT collaboration. Disparate IT teams can share common network data to solve performance issues faster and without the finger-pointing.
Ask your Riverbed partner or account team for more information on xx80 trade-ups or how to order more flows. Click here to learn more about Riverbed NetProfiler.