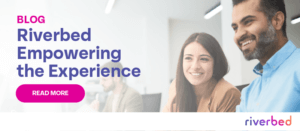 Today marks an exciting new chapter for Riverbed, our partners, and our customers. With the launch of our new brand including Alluvio by Riverbed, and a new unified observability portfolio and strategy that unifies data, insights and actions across IT, we are embarking on a mission to enable organizations everywhere to deliver seamless digital experiences and drive enterprise performance. This launch reflects the evolution of the Company, our technology, and our intent to disrupt the market.
We are capitalizing on our trusted brand, and the dynamic growth and market momentum of our visibility solutions, to drive a differentiated approach to observability that solves one of the industry's most daunting problems: how to provide seamless digital experiences that are high performing and secure in a distributed and hybrid world.
Let me set the stage. Today, users are everywhere. Applications and their components are everywhere. Data is everywhere and increasingly growing in terms of volume, variety, and velocity. In fact, data is projected to reach 180 zettabytes in 2025, up 3x from 2020. Modern IT architectures are exponentially more complex making it difficult for IT to manage performance effectively and proactively.
Yet every click represents an activity that is vital to your organization and there is a relentless expectation for a flawless digital experience. The quality of these experiences is the heartbeat of the fiercely competitive digital-first world we live and work in.
When issues occur, IT is overwhelmed by massive amounts of data and alerts from siloed tools that provide little context or actionable insights. Troubleshooting requires war rooms and the expertise of highly skilled IT staff to manually connect and interpret data across domains. And when tools limit or sample data, IT may not even be aware of other potential issues or opportunities for proactive improvement.
Observability is meant to solve these problems, but current solutions fall short. Even so-called "full-stack" observability solutions fail to capture all relevant telemetry and sample data to deal with the scale of today's distributed environment. Most solutions only collect three or four types of data and are limited to DevOps or Site Reliability Engineers for cloud-native use cases. And they offer nothing beyond the alert, so IT still relies on their resident expert to manually investigate events.
Enter Alluvio by Riverbed—a different, unique and superior approach to observability. Our unified observability portfolio unifies data, insights, and actions across all domains and environments, enabling IT to cut through massive complexity and data noise to provide seamless digital experiences that drive enterprise performance for both the employee experience (EX) and customer experience (CX).
The Alluvio portfolio leverages our industry-leading visibility tools (available today) for network performance management (NPM), IT infrastructure monitoring (ITIM), and digital experience management (DEM)—application performance management (APM) and end-user experience monitoring (EUEM), used by thousands of customers around the world. Unlike other observability solutions that limit or sample data, the Alluvio portfolio vision for unified observability is to capture full-fidelity user experience, application, and network performance data on every transaction across the digital ecosystem, and then apply AI and ML to contextually correlate disparate data streams and to provide the most accurate and actionable insights. This intelligence will empower IT staff at all skill levels to solve problems fast. Visit our Alluvio page to learn more and read today's press announcement.
Complementing the Alluvio portfolio, Riverbed Acceleration solutions provide fast, agile, secure acceleration of any app over any network to users, whether mobile, remote, or on-premises. Built on decades of WAN optimization leadership and innovation, Riverbed's industry-leading acceleration portfolio delivers cloud, SaaS, client and eCDN (video streaming) applications at peak speeds, overcoming network speed bumps such as latency, congestion, and suboptimal last-mile conditions to empower the hybrid workforce. Additionally, Riverbed's enterprise SD-WAN provides best-in-class performance, agility, and management of MPLS, LTE, broadband and Internet-based networks.
Only Riverbed provides the collective richness of telemetry, insight, and intelligent automation, from network to app to end user that illuminates and then accelerates every interaction. With the powerful combination of our Alluvio Unified Observability and Acceleration solutions, IT teams are empowered to provide a seamless digital experience for customers and employees, and end-to-end performance for the business.
We're looking forward to helping support our customers on this digital journey.
Together, let's Empower the Experience.
Read more on our new brand here.