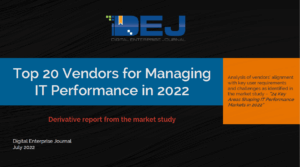 In July 2022, Digital Enterprise Journal (DEJ) published a market study titled "24 Key Areas Shaping IT Performance Markets in 2022." DEJ based the report on survey results from over 3,300 organizations around a variety of IT performance management topics. Register here to receive a copy of the DEJ Top 20 IT Performance Monitoring Vendors report.
Recruiting and retaining the right talent, aligning people resources with business goals, reducing time spent on addressing performance incidents, and visibility into technology adoption by employees are some of the key focus areas. 57% of organizations see automation as the key enabler for closing the modernization skills gap in managing IT Operations. Riverbed is prominently featured as one of the key vendors in IT performance management.
The top IT performance management needs: correlating IT performance to business outcomes
The report summarizes DEJ's survey on the importance of hundreds of technology capabilities. Topping the list of IT performance management needs, 84% of organizations selected "correlating IT performance to business outcomes." DEJ reports that what organizations are really looking for is a capability that connects operational improvements to business outcomes in a clear and measurable way. The study shows a 32% increase in the number of organizations that are using "ability to quantify the business impact" as the key selection criteria over the last 18 months. Riverbed scored as "Leader" in this area, as well in seven other areas of key capabilities.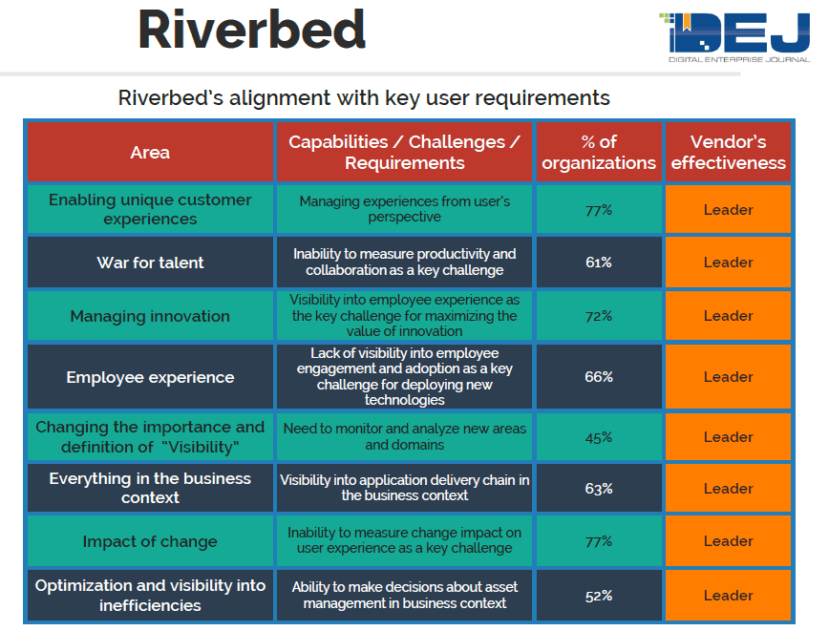 Enabling unique customer experiences with IT performance management
Creating and managing differentiating customer experiences is the key goal for 77% of digital businesses. As the graphic below shows, over the last 18 months, there has been a 41% increase in the mentions of enabling new and unique customer experiences as a key driver for investing in IT performance management technologies.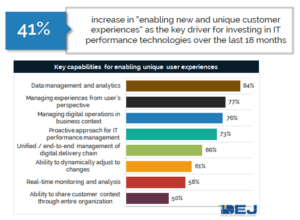 Riverbed's Alluvio Aternity Digital Experience Management Platform takes a unique approach to managing digital experience from the user's perspective. Through our "full-spectrum DEM," we enable IT to measure and manage the digital experience of BOTH employees AND customers. Aternity has been cited by other analyst firms, such as Forrester in its recently published Forrester Wave™ End-User Experience Management Report, Q3 2022, for this unique approach to digital experience management.
Register to obtain a complimentary copy of the Forrester EUEM Wave Report.
War for talent
It's no surprise that organizations are finding it hard to attract and retain top talent. Much has been written about the "Great Resignation" and the flexibility in work practices that newly empowered employees demand from their organizations. Survey data gathered by DEJ shows an increase of 2.5 times in the number of respondents who say that finding and retaining employees has become more difficult over the past three years.
As the table below shows, 30% of organizations reported employee churn due to digital services issues. Human Resources teams and Digital Workplace teams now coordinate more closely than ever to ensure they provide their employees an amazing technology experience. This is especially important in hybrid work situations in which many of the factors which can affect employee experience are beyond the direct control of IT. When employees work remotely, Wi-Fi signal strength, network bandwidth provided by the ISP, and the performance of SaaS-delivered apps all affect the user experience. IT performance management vendors like Riverbed help address these issues.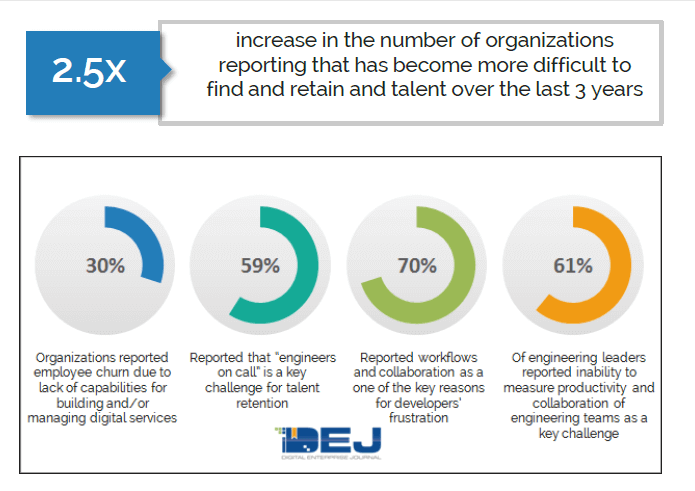 Digital workplace teams use Aternity's capabilities for automated remediation to proactively identify and resolve issues before they affect employee experience. Self-healing capabilities enable IT teams to "shift left" and resolve issues at lower levels without escalating. Integration with ITSM tools like ServiceNow enable IT to incorporate Aternity into current workflow processes. These capabilities reduce costs, improve service, and enable IT teams to focus on the right priorities, which leads to better employee satisfaction.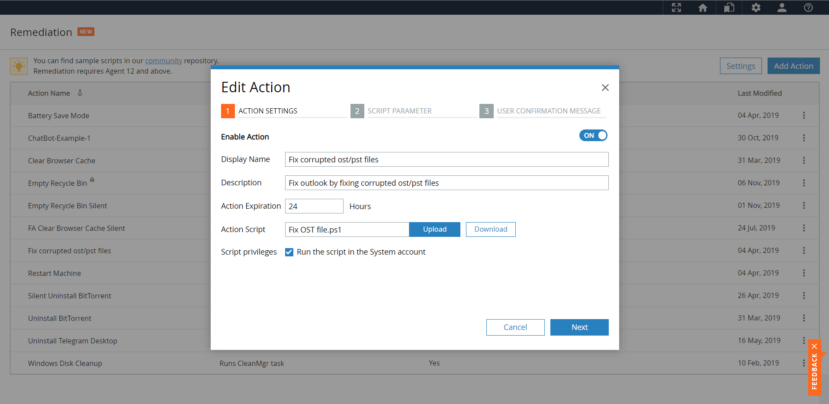 Employee experience
Monitoring employee experience has become top of mind for many organizations, and as the graphic below shows, employee turnover rates are 61% lower for organizations which monitor employee experience.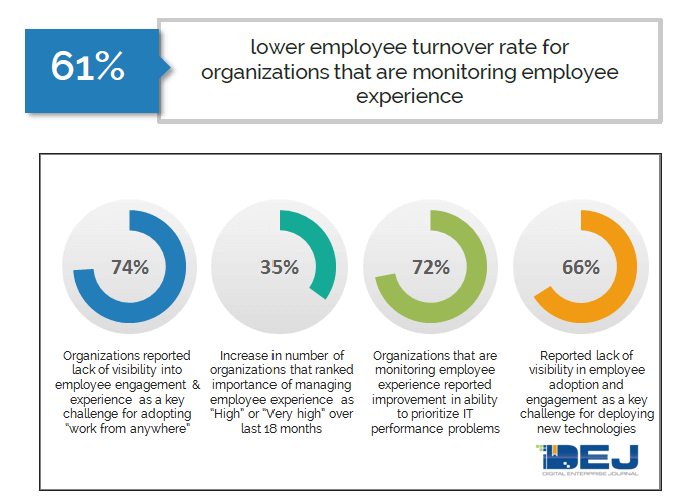 In an era of rising wages and historically low unemployment rates, companies must take every action they can to hold on to top talent—especially given the challenges of ensuring a positive digital experience in "work from anywhere" environments. Digital experience management not only ensures a positive employee experience, but it also enables IT to proactively identify and resolve issues, even without employees having to call the Service Desk. Better service means happier employees, which means less frustration and less employee turnover.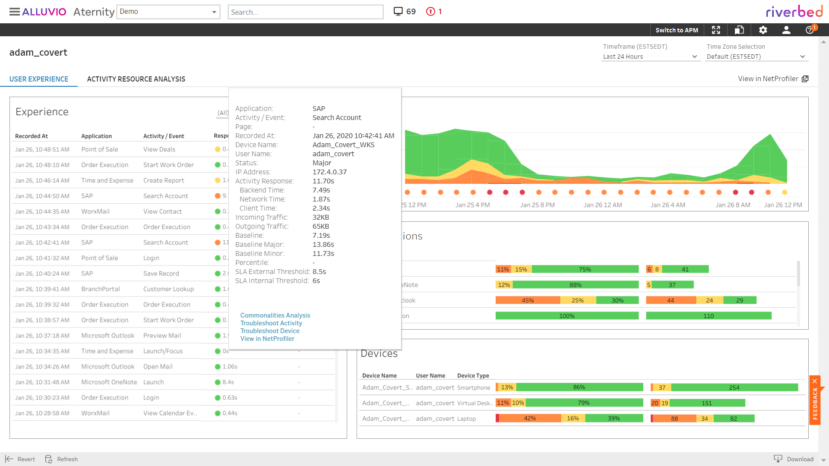 Get started with IT performance management today

If you're not yet an Aternity customer, you can explore these capabilities by registering for a free trial of Aternity running in your environment. You'll see how your organization compares to the market with the benchmarking insights from millions of endpoints monitored in via Aternity SaaS. You'll see how your Service Desk can drive down costs and improve service with AI-driven automated remediation. And you'll get a view of employee experience for every app running in your environment—even SaaS and Shadow IT.