The rapid pace of digitization plus transformational shifts to hybrid work, modern application architectures, and hybrid cloud networks are all making it difficult for IT teams to keep digital services accessible, high-performing, and secure for customers and employees. According to Riverbed's Hybrid Work Global Survey, 88% of business leaders are concerned about the digital disparity between in-office and remote workers.
If you're dealing with these types of challenges, Riverbed Acceleration is your solution!
Help on the way!
Riverbed's Acceleration solutions support peak performance to every user, everywhere and provide fast, agile, secure acceleration of any app over any network to users, whether mobile, remote, or in the office. Thousands of organizations across the globe use our Acceleration solutions plus WAN acceleration technology. In a recent EMA survey on WAN transformation, 71% of respondents reported that they use WAN acceleration technology to improve application performance on their network.
Read on to learn how one of Riverbed's customers leverages our Acceleration solutions to boost document transfer speed and reduce costs.
Hear from a customer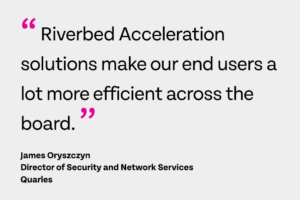 Since 2005, Quarles & Brady, a law firm on the American Lawyer's AM Law 200 list of the largest U.S. based legal service providers, has relied on Riverbed Acceleration solutions to speed up processes when dealing with clients' documents and data.
With over 1,100 users, including 500 attorneys, Quarles' IT infrastructure handles significant amounts of information. The firm's attorneys share, upload, and download large volumes of client data on a day-to-day basis.
Before working with Riverbed, attorneys at Quarles used a Microsoft file server and Microsoft Exchange to transfer legal documents to and from clients. The speed of this process is essential to keep costs low while the firm focuses on providing excellent service to clients. However, they faced immense challenges with this approach, including:
Long document upload, download, and transfer times, which is challenging as attorneys work through cases
High cost of attorney fees due to long transfer times
Hybrid, distributed workforce that needs accessible, secure, and high-performing apps to perform job duties
Riverbed Acceleration solutions
Quarles uses both Riverbed SteelHead and Client Accelerator to address these challenges:
Riverbed SteelHead dramatically speeds up the performance of applications anywhere in an organization while delivering the best end-user experience, even under sub optimal network conditions. Highly usable and compatible with customer environments, the solution is engineered for fast, seamless network integration into remote sites and branch offices, or data centers with scalable performance designed to support a growing number of users, devices, data, and application types.
Riverbed Client Accelerator delivers leading-edge application acceleration to dispersed workforces. The solution provides mobile employees with fast, reliable access to leading enterprise SaaS and on-prem applications. Compatible with your infrastructure (e.g., it supports leading operating systems), the solution improves network and application performance, security, and productivity for users anywhere.
Lower costs and better infrastructure

For Quarles, after implementing Riverbed Solutions, the speed boost in document management, such as downloads and uploads, went from taking minutes to just seconds. "What Riverbed allows us to do, no matter what application we roll out, is to almost guarantee that document transfer will be more efficient with the Acceleration solutions in place," said James Oryszczyn, Director of Security and Network Services at Quarles.
Increasing speed via the Riverbed Acceleration solutions has also helped the firm cut costs, since it does not need to increase bandwidth and buy larger circuits to allow remote users with a below-par Internet connection to share documents. For more details on this case study click here!
You can also learn more about Riverbed Acceleration solutions on our web site, by reading this blog post, or by signing up for a free trial!