Today's ​IT environments are more complex than ever before. Technologies like hybrid work, distributed hybrid cloud, and advanced network environments, such as SASE, CASB, and SDWAN, are causing new blind spots and reducing IT's visibility. Below are some other common IT challenges and how Alluvio IQ unified observability can help your organization surmount them.
Alerting overload
Today's IT environments are profoundly more complex than in the past, with immensely more data and alerts to contend with. Most of these alerts provide little context to help prioritize issues or help expedite the troubleshooting process. For some companies, they get so many alerts it's impossible for them to manually investigate every incident. We've run into other organizations that turn alerting off altogether and wait for the phone to ring. This overabundance of alerts and lack of actionable insights consumes IT's bandwidth and makes it more difficult for them to separate critical events from the noise.
Alluvio IQ employs Machine Learning (ML) to continuously analyze key metrics that characterize the IT environment and "fits" the most appropriate algorithm, so we leverage the most information from the data. Alluvio IQ continuously assesses the run-time environment and performance to learn behaviors and automatically adapts as the system evolves.
The Artificial Intelligence (AI) inherent in Alluvio IQ algorithms does the heavy lifting and can sift through many datasets to quickly identify and correlate anomalous behaviors that are then run through automated investigations (aka runbooks). Alluvio IQ's out-of-the-box runbooks gather critical context to provide insight into Impacts (specifically impacted users, locations, and applications) so IT can prioritize and collect supporting data to help IT expedite resolution. In this way, Alluvio IQ surfaces the most critical issues so IT can tackle the most critical incidents, rather than "clear-cutting the forest" of alerts, or chasing false positives.
Skilled resources​ scarcity
In addition, enterprises often rely on a small number of high-impact, in-demand, and highly skilled IT personnel to troubleshoot complex issues. Often IT management can even name the individuals responsible. When these skilled team members are unavailable, it takes longer to get to resolution, or the problem may not get resolved until they return. ​For IT experts who get pulled into troubleshooting when it's not their primary job, there could be unplanned impacts on work-life balance (employee satisfaction) and potential delays to strategic projects. ​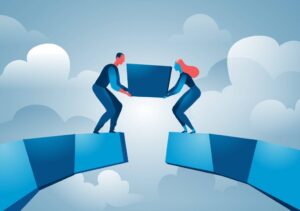 Additionally, these skilled team members have vast institutional knowledge. It is important to retain and share this tribal knowledge as these employees are in high demand and are frequently poached.​
Alluvio IQ helps improve the quality-of-life for these skilled team members, while also enabling first-level personnel to contribute at a higher level. Alluvio IQ provides low-code automated runbooks that skilled team members can easily use to codify their knowledge. Once tribal knowledge is captured in runbooks, the skilled team members are free to pursue planned high-value tasks, while at the same time first-level personnel have immediate access to the context and supporting details needed to quickly assess/resolve issues.
Data granularity
Some companies deal with the volume, variety, and velocity of data and alerts by limiting or sampling data. For example, they may collect one out of every 10th or 100th data point or collect only metrics. Essentially, they are making decisions based on incomplete snapshots of data. Without the full picture, this sampling can have disastrous consequences when monitoring security issues and can make troubleshooting more complex than it needs to be.
Alluvio IQ leverages the full-fidelity telemetry of our market-leading network, infrastructure, and end user experience products rely on. Because we capture everything and we don't sample, and because Alluvio IQ analyzes 10+ million data points per minute, you'll never miss a critical performance problem.
Hybrid work blind spots
Lastly, "hybrid work" architectures are becoming the norm (i.e., there is no longer a difference between in-office and remote users). Hybrid architectures leverage tunneling technologies to establish "work from anywhere" environments—but tunnels create blind spots that complicate troubleshooting and problem resolution.
When employees work from an office, the network team is responsible for application access and network transport issues—and it has access to a mature toolset to help identify/resolve issues.
As work from anywhere proliferates, the responsibility for identifying and troubleshooting remote issues in these new direct-to-cloud environments still falls within the network teams' domain. Yet, because of the new blind spots, they lack the visibility needed to be effective.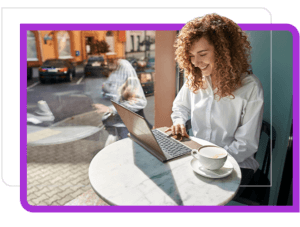 Alluvio IQ leverages Alluvio Aternity end user experience data to triangulate from the edge and provide the visibility NetOps teams need to identify and prioritize network access and performance issues, the impact it has on end users, and who to call to resolve the issue (ISP, CASB supplier, application owner, security team, etc).
Alluvio IQ leverages Alluvio Aternity end user experience data to provide the visibility NetOps teams need to identify and prioritize network access and performance issues, the impact it has on end users, and who to call to resolve the issue (ISP, CASB supplier, application owner, security team, etc).
Unified Observability solves common IT challenges
Alluvio IQ is a cloud-native, SaaS-delivered, open, and programmable Unified Observability service that empowers all IT staff with actionable insights that help identify the critical issues and provide important context so they can fix problems fast. It leverages full-fidelity end user experience management (EUEM), network performance (NPM) and infrastructure data across the digital enterprise and then applies AI and machine learning (ML) to correlate data streams and identify business-impacting events.
This intelligence also informs the investigative runbooks that replicate the troubleshooting workflows of IT experts to gather context, filter out noise, and set priorities. It effectively changes the NetOps model from a reactive and woefully inadequate alert-driven approach to a more intelligent solution that proactively surfaces the most business-impacting issues. The result is that IT staff of all skill levels—not just IT experts—have the context they need to identify and solve problems fast.
Learn more
To learn more about how Alluvio IQ can solve today's common IT challenges, please check out this Alluvio checklist, "9 Ways to Achieve Actionable Insights with Unified Observability."