Does Your SD-WAN Pass the Enterprise-Grade Litmus Test?
Are all enterprise SD-WAN solutions created equal? Although a rhetorical question, the answer is a definitive, "No."  That begs the question … "What makes one SD-WAN different from another?" And in particular, since SD-WAN adoption to date has occurred predominantly amongst smaller- and medium-sized businesses … "What makes an SD-WAN solution truly fit for larger organizations and global enterprises?"
Analyst firm, IDC, surveyed enterprises to understand what they demand from an SD-WAN solution to scale from pilots to full-scale rollouts.
You can read some of their findings in the IDC Technology Spotlight sponsored by Riverbed: Crossing the Chasm: What Makes SD-WAN Enterprise Grade.
Here are 3 key messages about enterprise SD-WAN from IDC's Technology Spotlight:
1. Look beyond connectivity
"Some advancements that would make SD-WAN solutions more appealing to a broader swath of large enterprises are as follows:

Core network services, such as enterprise-class routing, quality of service (QoS), dual-stack IPv4/IPv6, and segmentation, that seamlessly integrate with existing networks (Such services are critical during brownfield phases of SD-WAN deployment.)"
2. Importance of cloud-based application acceleration
"IDC survey respondents ranked the ability to connect to SaaS and IaaS providers and the ability to improve the performance of those connections as the top 2 use case criteria for adopting SD-WAN solutions."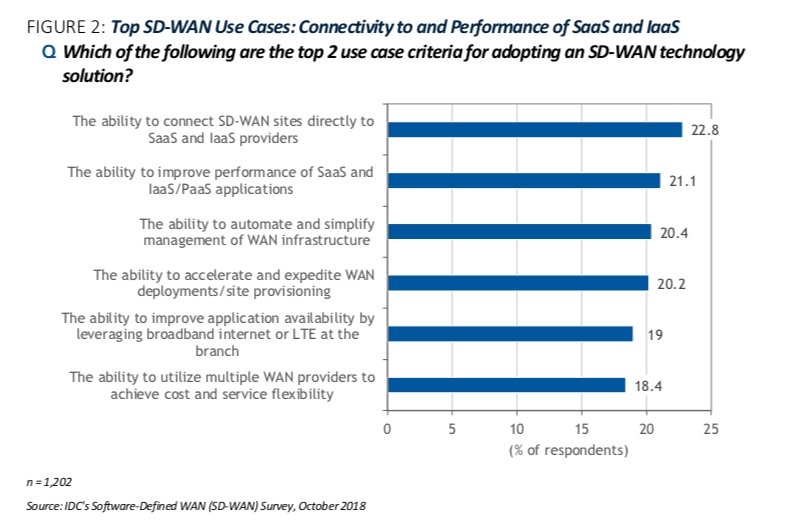 3. Value of network visibility and analytics
"It's one thing to have optimized connections across the network; it's another thing to have the tools in place to monitor those connections and ensure they're operating the way they've been programed to.

SD-WAN solutions that have integrated performance visibility and analytics not only can help ensure performance but also can be a security benefit. Solutions that retain a rich history of packet-, flow-, and device-centric telemetry can help identify the root cause of attacks."
Addressing the growing demand for enterprise SD-WAN
Application workloads are increasingly distributed across on-premises data centers and cloud data centers. The complexity and cost of WAN, coupled with insatiable demand for bandwidth are driving enterprises to consider SD-WANs.
It's one thing to act as an SD-WAN overlay network served by an underlay of conventional physical routers.  It's another thing altogether to communicate with (and even replace!) conventional routers to bridge between the old and the new. Such capabilities are essential when navigating the complexities of brownfield network integration.
Simply steering packets over Internet broadband circuits to reach cloud applications do nothing to overcome fundamental laws of physics. Network latency will ultimately dictate user experience. To truly boost performance and user experience across high-latency hybrid WANs, application acceleration is key.
In addition to reading IDC's Technology Spotlight, read this blog about Riverbed's SteelConnect EX SD-WAN architecture, which has raised the bar and set a new standard for what an Enterprise SD-WAN should be.
Does your SD-WAN pass the enterprise-grade litmus test?