Buzzing About IoT? Try Playing IoT Buzzword Bingo!
"M2M." "SoC." "Consumer Wearable." "Security." "BINGO!!!" Wait, what? Bingo?! IoT Buzzword Bingo!
If you have ever attended a technical or industry conference, you have probably sat through a lecture or presentation discussing a topic of importance to you or your company. But I have to ask this: did you pay attention? And did you learn anything?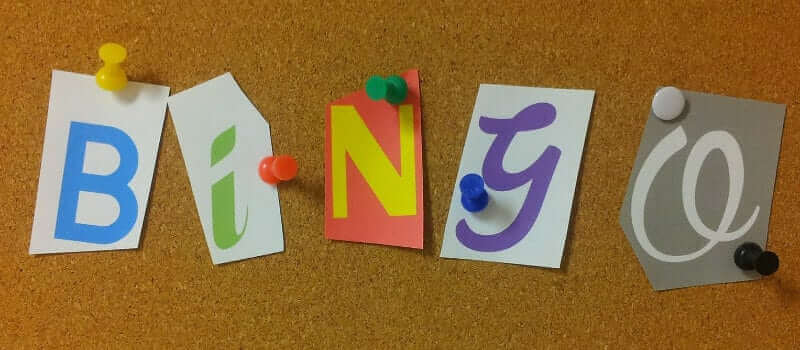 If the answer to either of those questions was "no," there could be a variety of reasons why the presentation didn't have an impact on you. Perhaps you were "forced" to attend against your will. Or the presenter was boring and put you to sleep. Or, maybe you just didn't understand what was being discussed.
Any one of those options is a plausible excuse for not getting the most out of a talk or lecture. But this is not a good use of your time. To make you more productive and knowledgeable in the process, I would like to offer some assistance for the next presentation you attend, specifically if the topic is related to the Internet of Things (IoT).
Use a game to learn
I remember way back in the day when people were struggling to define the term "cloud computing." And, I also recall sitting through many presentations where people were crafting their own versions of the definition and throwing it against the wall to see if their definition and supporting terms would stick like wet spaghetti.
During those lectures, someone mentioned "we should make a game out of this". That actually made a lot of sense to me.
Gamification has proven to be extremely relevant when it comes to engagement and motivation. And, by gamifying certain activities, there is a potential for stronger knowledge retention. So, how exactly might you gamify a lecture or speech? It's quite simple, really. You play Buzzword Bingo!
Bingo, you say? How can that even be relevant? Believe it or not, buzzword bingo is a thing and has been used when it comes to digesting technical presentations where a speaker may rely heavily on industry buzzwords to make a point. (Or, the game can be used to just stay awake during those particularly dense or weighty topic discussions.)
Often, presenters utter buzzwords without the necessary and relevant details explaining them. So, unengaged members of the audience have buzzwords go in one ear and out the other, without any true comprehension of the term or its importance in the context of the topic.
IoT is a thing now!
One of the most popular topics at technology conferences these days is the Internet of Things. Conferences related to cloud computing, manufacturing, consumer electronics, digital transformation, and more, all seem to have sessions linked to IoT, as well they should.
IoT is now what cloud computing was seven years ago.
Just a quick peek at comparing "cloud computing" with "IoT" on Google Trends shows a definite transformation of consumer and corporate web search interest away from cloud computing and over to IoT.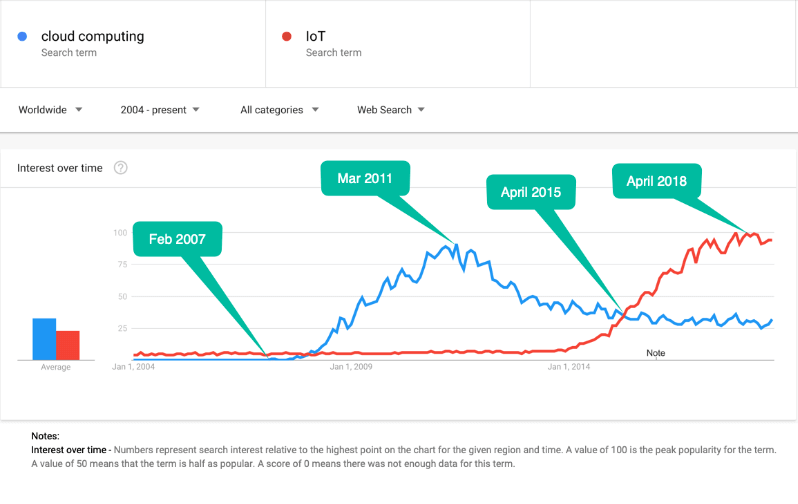 The scale of the chart indicates search interest; a value of 100 is extremely popular for the term while a zero indicates not enough data or extremely low web search interest. Prior to February 2007, 'cloud computing' was not a relevant search term while 'IoT' maintained an extremely low buzz. In March 2011, 'cloud computing"s search interest hit its peak and then started a slow move downward toward flat interest. 'IoT', on the other hand, has had a dramatic increase in search interest since mid-2014, eclipsing 'cloud computing' in April 2015. And 'IoT' hasn't truly slowed down since, even besting 'cloud computing''s peak interest level.
Gartner's latest Hype Cycle for Emerging Technologies for 2018 puts IoT, specifically the IoT Platform, right at the downslope of the Peak of Inflated Expectations. We are beyond the Innovation Trigger and heading down into the Trough of Disillusionment. My interpretation of this is that while IoT has been established, the infrastructure controlling it is still evolving dramatically.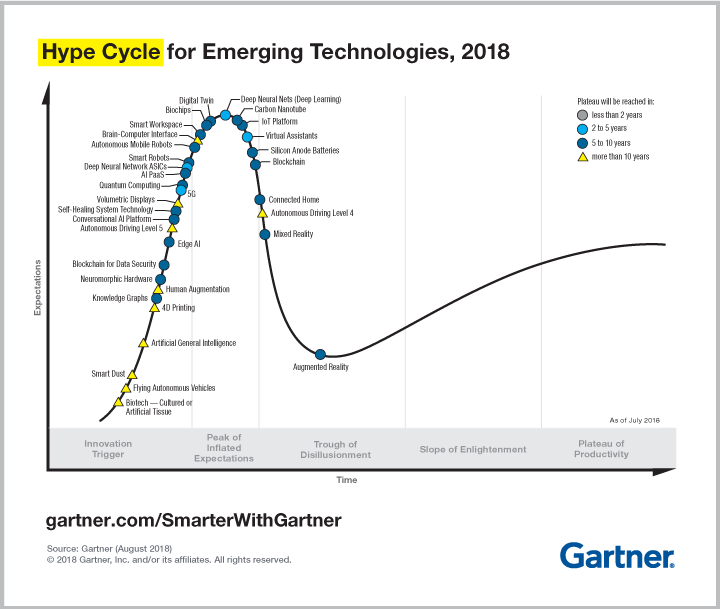 The Gartner Hype Cycle consists of five key overlapping stages:
Technology Trigger—when a specific piece of technology is created
Peak of Inflated Expectations—the technology is being successfully and unsuccessfully implemented, often by early adopters.
Trough of Disillusionment—in this stage, failures are surfaced, leading to frustration by users and some abandonment of the technology.
Slope of Enlightenment—as the technology is more broadly understood, more users begin to test and/or implement it.
Plateau of Productivity—at this point, the technology is well understood and has become widely adopted and implemented.
But what does that all mean for the Internet of Things?
Well, at a very broad level, everyone is talking about something related to IoT. And there are lots of buzzwords flying onstage, in conference rooms, in emails, and around the water cooler. And if you aren't doing your due diligence, you might not be part of the conversation, especially if you have no clue as to what people are actually discussing.
And that is why I'm here to help. IoT is proving to be an important enabler to companies undergoing digital transformation regardless of if they are in exploratory, planning, implementation, or management stages. As the digital performance company, Riverbed has some clear vantage points as to what is involved with proper IoT planning, implementation, and management, particularly as they apply to the management and optimization of networks and infrastructure, IoT-related or not.
To that end, I thought it important to provide some educational, yet fun information to help you become more of an IoT expert.
And the emphasis here is on fun.
Introducing IoT buzzword bingo
The next time you attend a conference or meeting where IoT is being discussed, have a printout of our IoT Buzzword Bingo game card. (And be sure to give a copy to your neighbors or coworkers so that they can participate in the learning fun as well.)
We have structured the IoT Buzzword Bingo card to be educational. While you listen for IoT buzzwords, you can also dive a bit deeper into understanding what the terms actually mean and how they are relevant to an IoT ecosystem as a whole.
All of the IoT buzzwords within the bingo card are linked to short and simple definitions. Also, we have created five relevant categories: Component, Connectivity, General, Architecture, and Industry Use Case to further your understanding of the breadth of IoT implementations. You can loosely work from one side of the IoT bingo card to the other as you build out an IoT scenario.
Start with a particular Industry Use Case, move to define the type of architecture you may employ, ensure that you have a good general understanding of what your IoT implementation may be, and then figure out how to connect it all together, using the appropriate components. Conversely, if you want to start in the weeds or perhaps if you have an IoT implementation already underway and you need to retrofit it into your existing infrastructure (or evaluate other IoT-specific environments), you may start more on the left side of the IoT bingo card.
Regardless, the IoT Buzzword Bingo Card is designed to help you navigate discussions or just gain a better understanding of the importance of IoT. Or you can simply use the card as an IoT reference guide. Oh, and if you are actually playing Buzzword Bingo, it can definitely help you pay attention during presentations, as well as get your colleagues a bit more engaged.
Obviously, these are not all of the IoT buzzwords you may hear. In my research, I have found sites dedicated to defining hundreds if not thousands of words related to IoT and its ecosystem. IoT is an industry growing at breakneck speed.
You may also want to keep a list of IoT buzzwords that do not appear on this IoT buzzword bingo card. In fact, if there are some that seem to be more common than others, leave a comment of what those IoT buzzwords are, and we can create a second IoT Buzzword Bingo card with more IoT definitions and explanations.
But your research doesn't have to stop there. I encourage you to visit the Riverbed IoT Solution page to continue your education on IoT. On it, you will find papers which outline some IoT challenges and solutions, particularly when it comes to planning, implementing, and managing an IoT environment.
So, whether you are looking to become a bit more knowledgeable about all things IoT-related, or merely want to have some fun with your coworkers during that next IoT presentation, our IoT Buzzword Bingo might be just the tool.