According to Enterprise Management Associates, 64% of organizations use 4-10 monitoring tools, while another 17% use 11 or more. This tools sprawl exacerbates the challenge of correlating disparate data sources to determine root cause of complex incidents. Additionally, problems such as alert fatigue, death by dashboards, and a lack of technical expertise also often coincide with tools sprawl.
However, many of these monitoring tools are necessary to provide different perspectives of network, application, and end user performance. Yet, some tools can be so entrenched that any change or attempt to consolidate is significant endeavor. To move away from these ingrained tools often means incurring significant costs and time.
Alluvio IQ Unified Observability
Alluvio IQ, Riverbed's SaaS-delivered Unified Observability service, empowers IT to identify and fix problems fast. It leverages Alluvio full-fidelity end user experience, network and application data, then applies machine learning (ML) to contextually correlate the disparate data streams to identify business-impacting events. This intelligence informs IQ's automated runbooks that gather supporting context, filter out noise, and set priorities. As a result, Alluvio IQ reduces alert overload and accelerates root cause analysis of the most impactful alerts.
Alluvio IQ now includes third-party data
Now the Alluvio team recognizes that when a company uses an abundance of monitoring tools, they want to integrate all their data in Alluvio IQ to truly simplify the troubleshooting process. So, we added the capability to import data from other solutions (think third-party monitoring tools or business intelligence). Plus, IQ can export intelligent insights to third-party solutions like Slack, ServiceNow, custom scripts, Ansible runbooks, etc.
The third-party data is added through the automated runbooks where the data can then be used as if it's native Alluvio data. Use it for decision making (if X happens, get relevant data from solution Y and visualizations. Because IT can now use all data in its environment, IQ better tailors the automated investigations to the organization's troubleshooting process.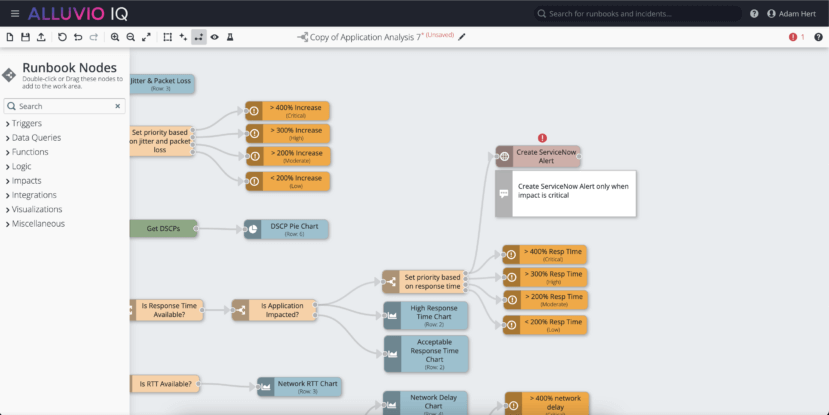 How it works
The integration process is simple yet flexible enough to support a non-Alluvio solutions in just a few, easy steps. First you need to authenticate with the third party solution. Then you can build an "HTTP Request," which enables IQ to leverage data from any solution with a public REST API. Finally, "Transform" translates the third-party data into terms Alluvio IQ understands.
Watch this video to see how to build and use third-party integrations:
[embedyt] https://www.youtube.com/watch?v=jBBIwVsuaMA[/embedyt]
Leverage any data
With this announcement, Alluvio IQ can leverage any data in the IT or business environment that could inform troubleshooting. In fact, one Alluvio IQ customer in the petroleum industry pulls in oil viscosity data when troubleshooting certain issues.
For more information about Alluvio IQ or how to leverage third-party data within runbooks, visit the Alluvio IQ web page.